When rumours suggesting that LEGO was making a Stranger Things set started circulating I don't think anyone could quite believe them. Given the nature of the Netflix TV series, it just didn't seem like a natural fit for the brand.
Then when it seemed that there could be some truth in them it was difficult to envisage what the set could possibly be given the locations and vehicles in it are largely unremarkable. There was also the question of minifigures: the set would need a lot if it was not to leave fans disappointed
The rumours turned out to be true, but will fans of the show be satisfied?
---
The show
Stranger Things is a Netflix 'science-fiction horror' series that was first broadcast in 2016. There have been two seasons so far, with the third due to be released in July this year. In the US it's rated PG-13 and in the UK some episodes are rated 15.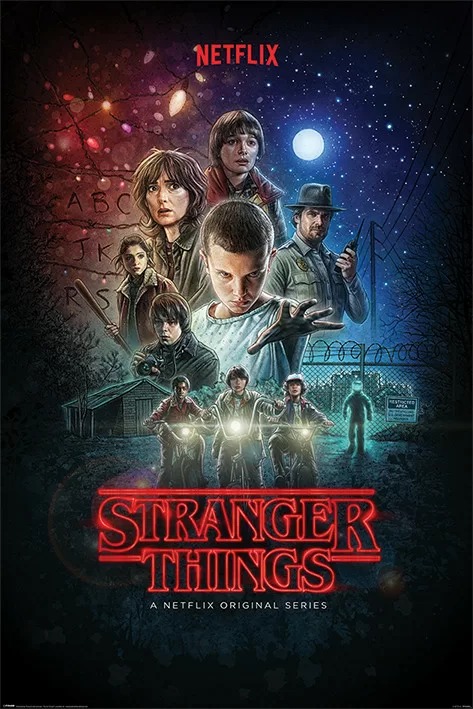 It therefore doesn't seem like a natural choice of IP for LEGO to licence but I suspect the company is hoping that the set will appeal to an older demographic that might otherwise have grown out of the toy.
The series follows events in the fictional town of Hawkins, Indiana in the 1980s, when experiments in a laboratory nearby inadvertently open a portal to an alternate dimension called 'the upside down': a spookier, darker, scarier version of reality.
Part of its success is due to much of the story and events revolving around a group of four boys, one of whom disappears. I've only recently watched it and enjoyed it very much.
I have tried to keep the review spoiler-free although I may mention certain plot points or scenes.
---
The box
When you first see the picture on the front of the box it's clear that it's unlike anything LEGO has produced before. Half the model is upside down and it's not immediately obvious how it holds together and stands upright.
View image at flickr
There's a LEGO logo in the bottom right corner so when you turn the box over you get a completely different perspective on the model.
View image at flickr
The rear of the box shows the back of the model and close-ups of some of the details.
View image at flickr
I don't often get the urge to break the seals and get building straight away but the box image left me very curious as to how it was built, how it the two halves fitted together, and how it was made to not topple over. Let's get the tapes cut and find out...
---
The contents
Inside, there are around 18 bags numbered 1 to 11, plus a bag of 8x16 baseplates in earthy hues.
View image at flickr
View image at flickr
There are two instruction manuals, neither of which has a picture of the set on it but instead purporting to be classified documents from the Hawkins laboratory. The first provides instructions for the 'right way up' version of the house, the second the upside down section, and joining them together. There's also information about the series, the cast that have been represented in minifig form, the designer (Justin Ramsden) and the design process.
View image at flickr
Two sticker sheets are provided. The smaller one contains monochrome versions of those on the larger sheet which will be used in the upside down.
View image at flickr
---
Minifigures
There are quite a few key characters in Stranger Things that just had to be in the set if fans were not to be left wanting. Thankfully, everyone who should be present is, and there's even one that was not expected.
The figures are distributed throughout the build but for convenience I will discuss them them all at once.
Will Byers
Will is the one of the four friends that goes missing. His distinctive 'basin cut' hairstyle required a new hairpiece so as a result it looks fabulous.
All of the child characters in the set utilise the new shorter articulated leg element. This is the first time it's been produced in light royal blue.
View image at flickr
Will's torso is printed front and back with details of his sleeveless jacket.
View image at flickr
His head carries an alternate expression, appropriately one of fear.
View image at flickr
The figure bears a very good likeness to the on-screen character and there's not really any room for improvement.
Mike Wheeler
Mike is equipped with a torch and walkie-talkie. He's often seen wearing a striped shirt and beige jacket which have been very well reproduced here.
View image at flickr
A stock hair piece has been utlilised so consequently the figure is not a perfect resemblance of the on-screen Mike.
View image at flickr
His head has an alternate angry expression.
View image at flickr
Lucas Sinclair
Lucas is the third of the group of friends. He carries a torch and a catapult, which I believe is a new element. It's an excellent minifig accessory, and even better, there's a spare one in the set.
View image at flickr
He wears a camouflaged bandana around his head and I believe a Ninjago element has been reused here, albeit redecorated. Consequently the top, which has no texture and is far too reflective, looks nothing like his afro hair.
View image at flickr
He has no alternate expression (it would be visible under the bandana) but the back of the torso is finely printed with details of his faux-fur collared jacket.
View image at flickr
Dustin Henderson
The designers have captured Dustin's distinctive appearance perfectly. His prominent lips and toothless smile, long curly hair and baseball cap really are spot-on!
View image at flickr
He's equipped with a walkie-talkie and a compass printed on a 1x2 transparent tile which is new in this set.
View image at flickr
He has an alternative angry expression and fine printing of his T-Shirt, checked collared shirt and demin jacket front and back of his torso.
View image at flickr
View image at flickr
He's easily my favourite of the figures!
Eleven
Eleven, or Elle as she's named by Mike, naturally has dark hair and a crew cut but, as that would have been difficult to reproduce in minifig form, she's been depicted wearing the blonde wig that she wears later in the series in order not to stand out.
View image at flickr
She has a pink cloth skirt and carries a waffle. She has no alternate expression.
View image at flickr
Joyce Byers
Will's mother carries a torch and a picture drawn by her son.
View image at flickr
Her hair first appeared in last year's Harry Potter sets, on Hermione, and while it's not a perfect representation for Winona Ryder's character, it's not bad.
View image at flickr
View image at flickr
She has a look of shock/horror for her alternate expression.
View image at flickr
Chief Jim Hopper
The local chief of police is the only human character who's not wearing a jacket. Instead, the fine details of his uniform shirt have been reproduced on his torso, including a pen in his lapel pocket and police badge above.
View image at flickr
View image at flickr
Demogorgon
These mysterious humaniod creatures inhabit the upside down and once again the designers have done a fantastic job of nailing its appearance, both by leveraging existing parts (Wolverine's claws and the CMF faun's legs) and creating a brand new 'flower-like' piece to represent its head.
View image at flickr
View image at flickr
The standard head piece underneath has been printed, perhaps unnecessarily, because I don't believe the creatures exist in that form, but I guess it might have uses elsewhere.
View image at flickr
---
Verdict on the minifigures
Overall then, this is an exceptional selection of minifigs. Some are more successful than others at representing their on-screen counterparts; Mike and Lucas's hair, in particular, could have been better but I don't think fans have anything really to complain about. Everyone that needed to be included is.
Of course, it would have been nice to have some of the peripheral characters as well -- Nancy Wheeler, Jonathan Byers and 'Mad' Max, for example -- but I appreciate that the line had to be drawn somewhere!
The set even provides a stand on which to mount the four friends, which is very welcome and avoids having the model looking overcrowded on display.
View image at flickr
View image at flickr
---
The set can be purchased from shop.LEGO.com now via these links:
USA | Canada | UK | Germany | France
Thanks to LEGO for providing the set for review. All opinions expressed are my own.