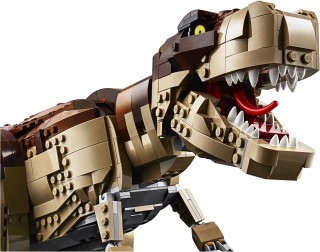 Earlier this week the spectacular 75936 Jurassic Park: T. rex Rampage was revealed. It features the biggest dinosaur LEGO has ever produced, an excellent rendition of the iconic Jurassic Park gate, and a number of new and sought-after minifigures.
CapnRex101 and I saw the set in Billund a few weeks ago and we were blown away. We spoke to its designer Mark Stafford and it was clear that it was a labour of love and that he was justifiably proud of his creation. Personally I can't wait to build and display it.
Yet, the reception it received here and elsewhere was lukewarm, to say the least, and I was very surprised by it. There was so much vitriol being spouted that I had to end commenting on the announcement article.
It seems that people find something to complain about virtually every direct-to-consumer set released, but I'm not really sure why. We really are in a golden age of LEGO, as those like me who can remember the days before the company even acknowledged adults as customers, will attest.
We have bigger, more detailed, more realistically coloured sets containing a range of parts that we could only dream about a few years ago, and an extremely diverse range of subject matter to choose from.
So, why is there so much negativity? Is it because there's too much choice? Because of unrealistic expectations? Because the bar has been set high by previous sets? Because people think that every set released should appeal to them?
Can we, as a community, do anything to stop it?
I welcome your thoughts in the comments, but please do not discuss perceived issues with the Jurassic Park set, or any other: keep the discussion generic and constructive.
After the break you'll find a complaint checklist, written by CCC and posted in the forum, which I found very apt and amusing. I think some people must be using it already...
---
Direct To Consumer set complaint checklist by ccc.
Does it contain a vehicle alongside a main build?
Yes - complain that it contains a vehicle, and that those parts should have been in the main model instead of wasted on a vehicle.
No - complain that it should have contained a vehicle, and that unnecessary parts hidden in the main model would have been better used in this valuable addition.
Does it have play features?
Yes - complain that it contains play features, the design could have been improved without messing it up for play features.
No - complain that it doesn't contain play features, you cannot do anything with it apart from display it as it is.
Does it cost too much?
Yes - complain that it is too expensive and would have sold better if they had made it more affordable.
No - complain that they could have done a much better job if they had upped the budget and included more parts in the design.
Does it have unique minifigures?
Yes - complain that it has unique minifigures and that it is unfair to put unique minifigures in expensive sets as it forces people to buy sets they don't want just for the minifigures.
No - complain that a set this size really should have unique minifigures as a selling point.
Has a similar design been on IDEAS?
Yes - complain that LEGO designers ripped off the design on IDEAS.
No - complain that nobody wanted this set, they should have done something more like the one on IDEAS.
Is it licensed?
Yes - complain that they should have done it as an in-house theme as they would have had more freedom over the design and characters.
No - complain that they should have done this as a licensed set to make more sales and to bring out minifigures of (insert licensed characters here).
I'm sure we could think of more...