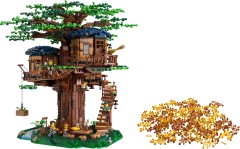 A brand new LEGO Ideas set, 21318 Tree House, is already available to purchase at the LEGOLAND Discover Centre in Grapevine, Texas!
This set contains 3036 pieces so is considerably larger than past LEGO Ideas sets and it costs $200.00 at the LEGOLAND Discover Centre in the US.
Further images have been published on Facebook, revealing that this set also includes an impressive selection of foliage elements which have been manufactured using the modern Plants from Plants technique. Additional information should emerge shortly.
Are you looking forward to 21318 Tree House? Let us know in the comments.
Furthermore, 10269 Harley-Davidson Fat Boy is available in the same store. You can read our review of the set here.