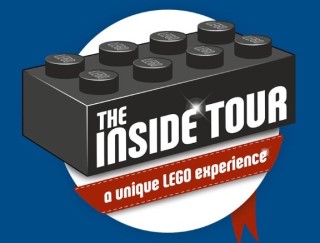 The first two LEGO Inside Tours of the year took place in Billund, Denmark in June, and Brickset member Jennifer, aka RavenDragonWing, was lucky enough to be selected to attend the first one.
Whenever we post about the tour there are always gasps of 'How much??' in the comments but it really is a once-in-a-lifetime experience that's worth every penny, as Jennifer's report will attest:
My friend Russell and I have been trying to attend the tour for something like 12 years, and, finally, this year, we got lucky!
Since the tour started Wednesday, we decided to head to Billund on the Sunday before, which meant leaving the USA on the Saturday.
Upon arrival, we took a taxi to the LEGOLAND Hotel, and then we were directed to walk over to the brand-new Castle Hotel (tip: tell the taxi driver the Castle Hotel). The hotel was so new, it still smelled new. You can read Huw's recap here.
View image at flickr
At check in we received a folder. Inside was a polybag, a non-discosure-agreement to sign, a LEGOLAND Billund Season pass and new this year, a year's pass to the LEGO House. In the room we found a LEGO set and a hand-written note.
After dropping off our bags, we headed to LEGOLAND. I have been to the Billund park before, the one in California, and Windsor, but this one is by far my favorite.
Monday, we walked around Billund, had some pastries at the yummiest bakery, hit the Loplet thrift store where you'll find lots of old LEGO items being sold off by the locals, and some grocery stores (I love going to grocery stores in whatever country I am in) then to the LEGO House. We ate at the Mini Chef place: we thought the food was actually really good.
View image at flickr
Tuesday, we did more walking around waiting for our friend Krys, who we were pleased to learn was also on our tour, to arrive and then we went to LEGOLAND together.
Day 1
Wednesday, day 1 of the tour. Taxis were provided, but Krys and I decided to walk to the LEGO House.
Each participant got their LEGO Inside Tour minifig torso and we got to build our own sigfig. There were also goodies on our chairs. We saw a video welcoming us to the tour and had a meet and greet with our wranglers (Stuart, Mike, Astrid, and Line). There were only 7 kids on our tour, and 2 of those were almost of age. Mainly it was AFOLs and their SO, with 1 person who won his tour pass and was not into LEGO, but his kids were.
There were pastries, water, coffee, and tea provided for us. We then had a trivia contest, I did not win.
Then off to the LEGO Idea House where we were separated into 2 groups. We got to walk around the museum and then got to go into the vault (always a pleaser). I got to hold my first set all over again.
View image at flickr
View image at flickr
View image at flickr
We then got to have a traditional Danish lunch, which was surprisingly good. We were then herded to the LEGO Innovation House. I heard was this was new this year. The Innovation House is where all the set designers work.
We got to hear about some cool stuff coming out, learned how sets are designed, and participated in a building challenge. Then, we went back over to the LEGO House (there is a lot of walking!) where we picked up our goodies and were asked to be back to the LEGO House for dinner.
Dinner was in the Mini Chef place and many designers were present to eat with. Mel Caddick and Jamie Berard sat with us. After dinner we went back over to the meeting room where they had set up another building challenge (design a MOC). Not many people stayed late, I was tired and wanted to be awake in the morning for Day 2!
Day 2
Day 2 started with the shopping experience at the employee shop. Almost 2 hours of LEGO shopping? Yes please!!! They gave each person a box to fill to be shipped home. No phones are allowed in the shop (they had you put them into a storage brick to be given back on the bus). I brought a print out of what I was looking for, and a calculator.
Then we were off to the warehouse to see how the bricks are made and stored (again our phones were taken and placed into the brick). We also got to see the pick-a-brick side of things (missing parts, parts bought on their online site, etc).
Afterwards, we were whisked away for more goodies and then talks with the Ideas team and one that spoke about "where to source your brick". Then lunch! We got to eat lunch in the cantina of the warehouse, yummy food. We were then divided into groups of 4 and we participated in a team speed build (my team did not win). Back to the hotel for some down time before dinner.
Dinner was at LEGOLAND at the western themed restaurant. I got to try "brick fries" and I sat with Mel and Jamie again. After dinner we headed to the LEGOLAND Hotel convention rooms for the award ceremony. The guy who won his ticket was given a trophy (his kids were over the moon). I won a trophy for best story telling.
View image at flickr
View image at flickr
The trophies were built by the designers. Mine was designed by Ricardo Silva.
Everyone got a set (all the same one) and we were treated to dessert and tea/coffee.
View image at flickr
Day 3
Day 3 started, and I was sad because it meant it was over. We got to tour the LEGO House before it was open to the public. Then we filed back downstairs to get our Inside Tour exclusive set. They had us pick numbers and the last person to pick received set numbered 1.
Sadly, it was time for the closing ceremony, where we could get our sets -- the LIT one, and those exclusively available in the LEGO House -- signed by the designers
Travel tips
Bring the big bag. I brought my biggest roller bag, a backpack, and a tote bag and I did not have enough room for everything so Russell and I ended up getting a K8 box to fill which we checked in it at the airport. It worked out much cheaper than posting it home.
Bring bubble wrap: thank goodness I had bubble wrap for my trophy! The LEGO store in the airport had things not available at the employee shop, LEGOLAND, or the store in the LEGO House, and is the only place that sells the airport set. Arrive a day or so early (or stay late) as the LEGO House and LEGOLAND close early and you may not get to see everything.
Overall thoughts
I had an amazing time on the tour. I really enjoyed interacting with the LEGO employees and other fans of the brick. I am rather jealous of everyone who's on the tours later in the year. I would do it again in a heartbeat if I get the chance!
---
You can apply for the 2020 events between October 28 - November 1, 2019. Find out more on The LEGO House website.