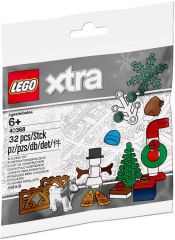 The latest Xtra polybag, 40368 Christmas Accessories, has been revealed. This set contains some interesting elements, including a husky, some pearl gold fences and a white leaf.
I anticipate this polybag becoming available during September or October, presumably costing £2.99, $3.99 or 3.99€ to match previous Xtra polybags.
What would you like to see in future Xtra polybags and are you impressed with this one? Let us know in the comments.