Our build Huwbot competition came to an end a few weeks ago and, after much deliberation by the judges, we are now ready to announce the winner.
It attracted several hundred entries on Flickr and Instagram so we had a difficult task, particularly given the high standard of the entries and the creativity and imagination evident in every one.
We loved that many of them incorporated Brickset's logo or colour scheme and several even included Clikits, which of course are a particular favourite of the server-dwelling robot.
So, without further ado, the winner is Eero Okkonen whose adorable depiction of him shown here features the Brickset logo in his head, a Clikits heart and a thoughtful expression while he selects the random set of the day from his cart.
There are others that deserve a special mention and which we'll be sending prizes to. Check them out after the break...
---
Ereo is a very accomplished builder whose work is more often than not featured at Brothers Brick so we are honoured that he took the time to enter. We think his interpretation of Huwbot is delightful and we'll use it on the site to illustrate some of Huwbot's articles in due course!
View image at flickr
---
Runners up
We also loved the following entries and we'll be sending you all some cool prizes:
I think Gary Scheppke's humanoid robot looks more like me than Huwbot, but it's a clever build full of personality, made entirely in colours from the Brickset logo. Like the winner, he too is picking sets out of storage for random set of the day.
View image at flickr
---
Satikol's entry, which incorporates the site's menu bar, logo, and 'icons' representing the site's content, shows real creativity and is a great interpretation of the brief.
View image at flickr
---
Rick's cute little bot has the site logo for a head and looks very workmanlike with his spanner ready for fixing any faults he finds.
View image at flickr
---
scarletfantastic.lego's clever entry on Instagram spells out the robot's name in the site's colours.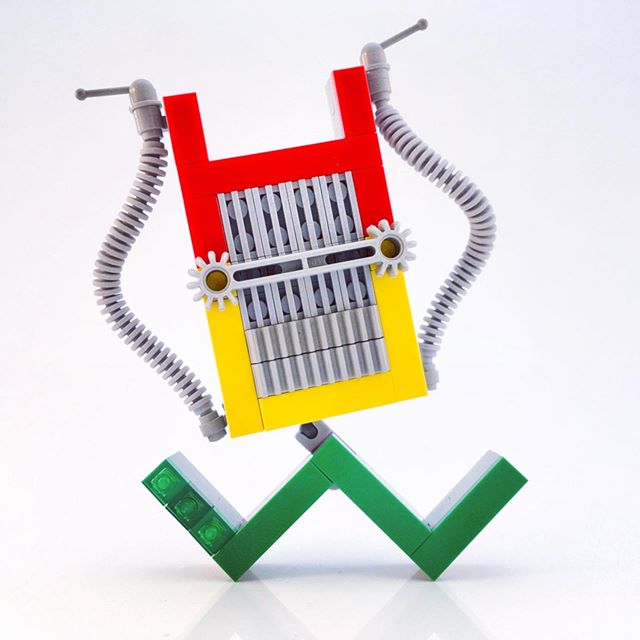 ---
Finally, we have to give special mention to Jackie Britton whose model is made entirely from Clikits pieces!
View image at flickr
---
Congratulations to the winner and runners-up: I'll be in touch via flickr/instagram to arrange to send out your prizes.
And, a big thank you to everyone who entered. We really enjoyed looking at all your entries. Your collective creativity is incredible and we hope you all enjoyed building your own depiction of our favourite server-bot.