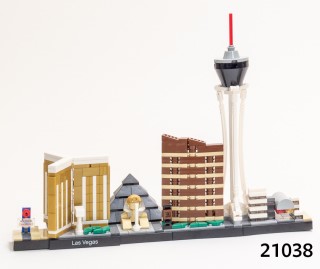 You may recall that the release of last year's Architecture skyline set of Las Vegas was delayed for a time while it was redesigned to omit the Mandalay Bay Hotel, the scene of a tragic event the year before.
So, officially, 21038 Las Vegas never saw the light of day, and was replaced by 21047 Las Vegas which included the Bellagio resort instead. For a time, LEGO was very sensitive about this and asked us, and other sites, to remove images of the original set.
However, as it turns out, a few did escape from the company and Tom over at Brick Architect has managed to get his hands on one from a shop in Johannesburg, and has just posted an excellent review that compares it with the released version.
It's not known why the set was available where it was, or whether other shops in the region also sold it. Whatever the reason, it must surely be one of the rarest sets ever and a real collectors' item.