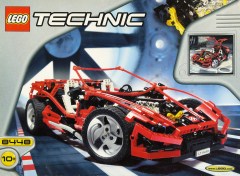 There has been much discussion recently comparing today's complex and enclosed Technic sets with the simpler skeletal ones of yesteryear.
Brickset reader pHabala has been following it with interest and has written this very interesting and well-researched article that considers the educational value of Technic sets:
When you become a parent, sooner or later there comes a time when you hear questions like "Why does the engine make so much noise", "How come that when you turn the steering wheel, the car turns" or "Why do you keep twiddling that stick when driving".
There was a time when you could just buy the latest Technic supercar to explain what is happening under the bonnet, but what about nowadays?
---
The first of the so-called supercars was launched in 1977 and since then every car in the series brought something new. By 1994 they included about as much of car technology as (reasonably) possible in LEGO. The development can be summarised in the following chart, reworked from Eric Albrecht's supercar summary in Blakbird's Technicopedia.
Here is the classical supercar line-up:
Set
Engine
Steering
Suspension
Differential
Gearbox
853/956 Car Chassis(1977)
I4
(square)
Yes
2sp (linear)
8860 Car Chassis (1980)
F4
(square)
Yes
Ackermann
Swing arm
(rear)
Rear
3sp (linear)
8865 Test Car (1988)
V4
(square)
Yes
Ackermann
Yes
Rear
3sp (linear)
8880 Super Car (1994)
V8
Yes
Ackermann
Yes
Front, rear
center
4sp
8448 Super Street Sensation (1999)
V8
Yes
Yes
Rear
5+R
Note that already the second set on the list features all five basic car components. The last two sets are considered by many to be the pinnacle of the supercar line. From a technical point of view, 8880 is the clear winner here with its four wheel drive. However, if you want to use LEGO to explain car technology, then 8880 is an overkill, while 8448 offers the same components in a much more transparent package. Moreover, the gearbox also features reverse. True, it does not have the Ackermann steering, but this is not such a big deal. Add to it the much improved aesthetics and it is no surprise that for many, 8448 is the king.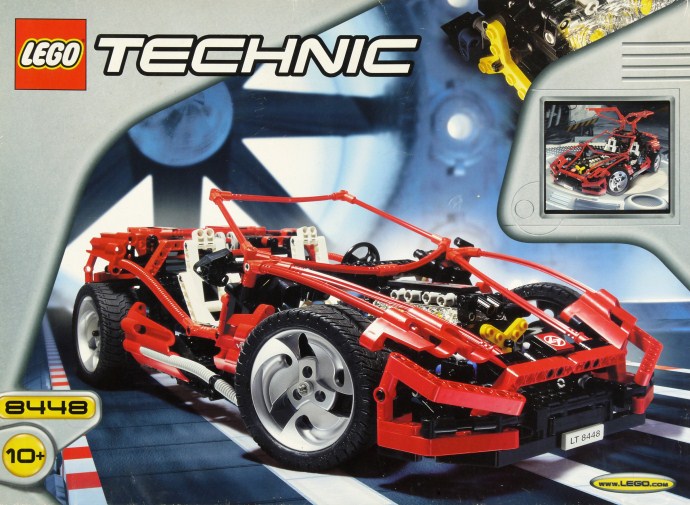 Super Street Sensation
8448
8448 Super Street Sensation: the ultimate Technic Supercar?
What actually is a supercar? I think that these sets share three traits:
Each sets introduces something new;
Each set is on the cutting edge of LEGO engineering;
Each set showcases key components in car technology.
The bottom line here is that if you wanted to show your children how cars work, then for about twenty years you could use LEGO. It is interesting that there were quite a few sets released in those years that featured the "basic triad" consisting of engine, differential, and steering (but sometimes only a Hand-Of-God version), these appear even in some smaller sets of about 350 parts. Here is a non-representative list of some sets that caught my eye.
Set
Engine
Steering
Suspension
Differential
Gearbox
8859 Tractor (1981)
I2
(square)
Yes
Rear
8850 Rally Support Truck (1990)
V6
HOG only
Rear
8868 Air Tech Claw Rig (1992)
V6
HOG only
Rear
8458 Silver Champion (1994)
V6
HOG only
Yes
Rear
8440 Formula Flash (1995)
V6
Yes
Rear
8408 Desert Ranger (1996)
V2
HOG only
Rear
8437 Future Car (1997)
V4
Yes
Rear
Rear
So it is 1999, the set 8448 hit the shelves and the supercar line stood at crossroads. LEGO tried two things. It released a Formula 1 car that cut down on car tech components, and recycled the 8448 set in a "cool" package.
| Set | Engine | Steering | Suspension | Differential | Gearbox |
| --- | --- | --- | --- | --- | --- |
| 8458 Silver Champion (2000) | V10 | Yes | Yes | Rear | |
| 8466 4x4 Off-Roader (2001) | V8 | Yes | Yes | Rear | 5+R |

8458 Silver Champion: the first of many 'Formula 1' style Technic cars
The F1 car looked like a success, so in the following years we had several more of them that were - at least from the point of view of chassis - pretty much the same. The 4x4 Off Roader was a different story, and many fans feel unhappy about it to this day - some because of the aesthetics, and many because of the inferior functionality when compared to 8448. Still, this set has the distinction of being the last LEGO set that has shown the whole quintet of components.
I do not have any inside information, but I imagine that LEGO designers and executives wondered what to do next with their supercar line. Since making reasonable working breaks or clutch does not seem feasible in this scale (unless highly specialized parts are created), LEGO designers ran out of car tech components to add. Of course, it would be possible to recycle the 8448 chassis every few years in a new coat (preferably better than 8466), but this is not how LEGO operates. So instead they switched focus.
The new supercar line would follow these guidelines:
Each sets is on the cutting edge of LEGO engineering;
Each set has a great wow factor.
One of the consequences of this decision is that fans do not always agree about which sets released since 1999 actually belong to the supercar line-up. In the following chart I tried to include the sets that seem to be considered supercars, as well as some other sets that feature a significant number of car tech components. There has been quite a few featuring the "basic triad" (steering, engine, differential), I chose a few that caught my eye.
| Set | Engine | Steering | Suspension | Differential | Gearbox |
| --- | --- | --- | --- | --- | --- |
| 8461 Williams F1 Team Racer (2002) | V10 | Yes | Yes | Rear | |
| 8454 Rescue Truck (2003) | V6 | HOG only | | Rear | |
| 8386 Ferrari F1 Racer 1:10 (2004) | V10 | Yes | | Rear | |
| 8653 Enzo Ferrari 1:10 (2005) | V12 | HOG only | | Rear | |
| 8674 Ferrari F1 Racer 1:8 (2006) | V10 | Yes | Yes | Rear | |
| 8145 Ferrari 599 GTB Fiorano 1:10 (2007) | V12 | HOG only | | Rear | |
| 8070 Super Car (2011) | V8 | HOG only | Yes | Rear | |
| 42000 Grand Prix Racer (2013) | V8 | Yes | Yes | Rear | |
| 42039 24 Hours Race Car (2015) | V8 | HOG only | Yes | Rear | |
| 42037 Formula Off-Roader (2015) | I4 | HOG only | Yes | Rear | |
| 42048 Race Kart (2016) | I1 | Yes | | | 2 speeds |
| 42075 First Responder (2018) | F2 | HOG only | Rear | Rear | |
| 42077 Rally Car (2018) | V6 | HOG only | Yes | Rear | |
| 42096 Porsche 911 RSR (2019) | V6 | Yes | Yes | Rear | |
Note that the current high end cars – Porsche, Bugatti and Land rover – were excluded. They do feature the whole quintet, but all this technology is carefully hidden from view, the price is rather prohibitive, and above all, their transmissions are too complicated to serve any educational purpose.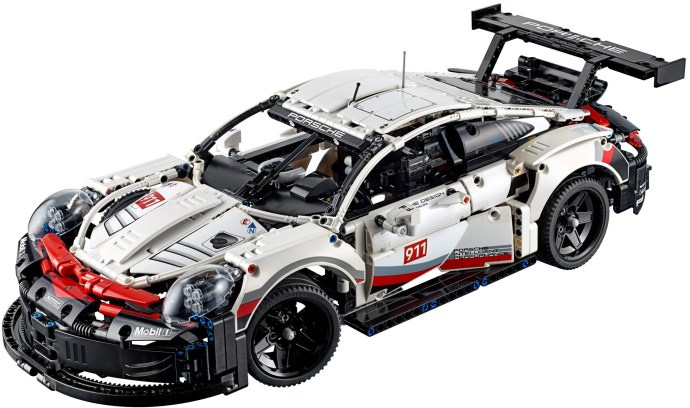 Porsche 911 RSR
42096
42096 Porsche 911 RSR: A supercar?
What does this chart tell us? That since 2001 there has not been a single set that could be used to show all important car components. There has been just one set with a gearbox, but the Go-Kart does not have the typical LEGO gearbox and it lacks in other areas. This lack of gearboxes is rather strange, given that LEGO during this time significantly improved all crucial parts (clutch gears, driving rings) and also introduced sturdier versions of some popular gears (8 and 16 teeth).
It seems extremely unlikely that we will see another suitable car appearing in the supercar line. The reasons why LEGO went a different way in 2001 are still valid. This leaves open another venue: LEGO could simply offer a simpler car showcasing the technology that would not be considered a part of the premium line. However, I strongly doubt that it will come, given that LEGO did not release such a set in 2017, commemorating the birth of Technic LEGO and celebrating the Car Chassis set.
My feeling is that LEGO reacts to the general trend observable in the younger generations. They are, on average, less interested in the physical, mechanical world, preferring the world of computers and virtual reality. And indeed, LEGO caters to this crowd well with the Mindstorms line. It would be nice if LEGO tried to rekindle the interest in mechanical engineering, but it is very likely that such sets would not sell. Asking them to do things that do not make sense economically would not be fair.
So where does this leave us - parents who would like to use LEGO when talking about cars with our children? We can fish for used old sets, or build our own rigs from parts. Meanwhile, university teachers fondly remember the days when top high-school graduates flocked in large numbers to engineering schools.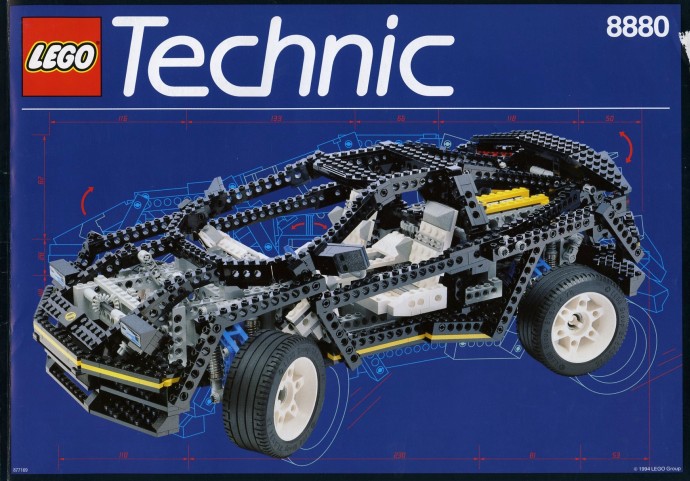 Super Car
8880
8880 Super Car: Old-school Technic at its best