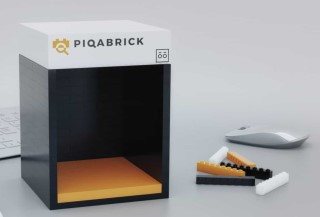 Wouldn't it be great if you could take a photo of an unknown LEGO piece, upload it somewhere and have it identified for you? That's exactly what Piqabrick, a project that's just launched on Kickstarter, sets out to deliver.
When I first read about it I was sceptical that such a thing could ever work but having read a bit more into it and seen what else the company behind it has done with its technology, I've changed my mind.
---
Essentially, Piqabrick consists of three parts:
A camera module with integrated lights, the 'Piqabrick top', that is designed to sit on top of a cube built from LEGO and plugged into a PC or Mac.
A website 'dashboard' through which you operate the camera and receive results
A database of LEGO parts images, upon which the system relies.
To use it, you put the part you want to identify under the camera, fire up the website and click a button to take a photo. The image is then sent to 'the cloud' where it'll be compared with those in the database and if there's a match you'll be shown the part number and links to BrickLink and so on.
The company behind the project, Getcoo, has already produced a similar system, Piqapart, for identifying screws and other industrial components so it should know what it's doing. I therefore think there's a good chance that it could actually work.
Of course, it will only be as good as the database of images and as I understand it that is being compiled at the moment by beta testers. In the long term it will effectively be crowd-sourced from the device's users, who will have the ability to add any new parts they encounter.
Anyway, you can show your support for the project on Kickstarter, where a pledge of €111 will get you a Piqabrick top when they ship in February. If the system turns out to be as good as it's claimed it will be, it will be a real time-saver for, for example, BrickLink sellers, so will pay for itself in no time.
There's more info in the press release:
---
I am Stefano of GETCOO and I am happy to announce PIQABRICK, our made in Italy product that applies the computer vision technology to the world of LEGO, is on Kickstarter! Piqabrick is the new must-have for any AFOL (Adult Fan Of Lego) and Brick lover to instantly identify any brick code and manage the inventory.

PIQABRICK relies on DART (Direct Acquisition and ReTrieval), Getcoo's proprietary Artificial Intelligence, already adopted in industry and tourism. PIQABRICK is made of two parts: the PIQABRICK BOX and the web dashboard. The first one consists of a USB camera and LED (to provide the correct illumination) mounted on top of a box made by LEGO bricks.
The box has precise dimensions (16x16 brick units wide and 12 brick units tall), but it is fully customizable by the user with his/hers own bricks (as long the internal dimension are kept, the color of the bricks does not matter). The PIQABRICK BOX is connected to a PC via USB and does not require any installation. To identify a brick, down to its ID and color code, just put it into the box!

The web dashboard controls the camera in the PIQABRICK BOX for the brick identification. Once the brick is identified the dashboard provides the links to the LEGO marketplaces to easily buy/sell the brick and to manage the personal inventory.

With PIQABRICK, Lego lovers can save time in the brick identification and the personal inventory management. The computer vision speeds up the buying/selling activity on the specialized marketplaces. With less time needed for searching, sorting and inventorying, more time to play, build, and have fun!

PIQABRICK:
identifies any brick down to the ID and color code
speeds up the identification with computer vision
identifies minifigs as well
suggests similar bricks (by code or color)
provides "appear in" functionality (list of sets in which a brick appears)
provides "rebrick" functionality (list of sets one can build with the bricks in his/her inventory)

More info: