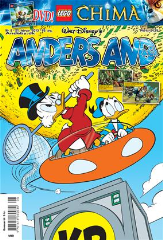 News just in from two sources in Denmark:
"Wanted to let you know that 30255 is included in today's kids magazine "Anders And" (Donald Duck) in Denmark. The magazine is 24 DKK."

"On the cover it mistakenly says that there is a Chima DVD included, this is not the case, and a flyer inside the magazine reads that it will be included at a later point, instead 30255 Crawley is included."
Thanks grums and Frank for the news.

Sponsored content