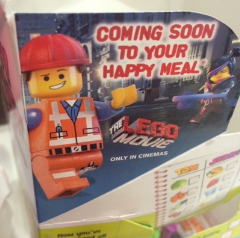 Forum member princedraven snapped this picture on his kids' McDonalds Happy Meal box today. I suspect it will coincide with the movie's launch in February. (Update: BrickFanatics has calculated the promotion will begin 22 or 29 January).
I wonder if it will feature proper polybags, or cheap plastic knock-offs like those we've seen in recent Happy Meal promotions.
I'm actually quite surprised that it's happening because I'm sure LEGO changed its policy a few years ago and decided not to co-promote with food, particularly that considered by some to be unhealthy.
Sponsored content