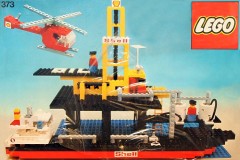 Those of you that have been visiting Brickset for a while will remember that earlier this year we were adding brand-new never-before-seen images of sets from the 1970s and 1980s. The last batch we did was in April and at the time we didn't let on where they had come from. All was revealed in the BrickJournal article about our visit to the LEGO archives in Billund that was published shortly afterwards.
A couple of people commented in the survey about the completeness of the database and the size of some of the images so I thought it was about time I finished the job and got the rest added. So today I have added new images of sets released in 1977. I think we managed to photograph most of the European-released sets. Most of the gaps in that list will be the US-only re-releases.
The armless and faceless minifig continued to populate LEGOLAND but still couldn't fit into any vehicles. The bendy-armed maxifig diversified into native Americans, construction workers and firemen. The big news of the year though, was the introduction of Technical sets (later to be renamed Technic). In 1977 I was 14 and probably would have grown out of LEGO were it not for Technic. I remember receiving 850, the yellow Forklift, for a birthday or Christmas and thinking that it was absolutely fantastic!
If you take a look at the Oil Rig set, 373, you can see one particular problem we encountered when photographing the boxes in the archive. Many of them were still wrapped in cellophane which made reflections a problem, but even worse was when the wrapper had broken, as was the case for 373. We wouldn't have been too popular had we removed it to get a better photograph!
I'll be adding 1978 and 1979 in the next few days, which were exciting years: the birth of the proper minifig and of classic space! After that I'll be going back further in time, to the 1960s.
Big thanks are again due to bluemoose for taking the photos and post-processing them to create such crisp, clean images.

Sponsored content