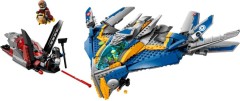 Yesterday, USA Today posted the first picture of a set from the forthcoming Marvel movie Guardians of the Galaxy. I saw this set, 76021 The Milano Spaceship Rescue, at the London Toy Fair and thought it looked very cool, easily the best of the bunch of the three GotG sets, and very distinctive in its blue and yellow colour scheme.
The New York Toy Fair starts tomorrow so expect the Internet to be awash with images from the LEGO stand later in the day. We won't be there (unfortunately) so I suggest you keep an eye out for Ace Kim's coverage over at FBTB.
Thanks to everyone who emailed about this.
Sponsored content