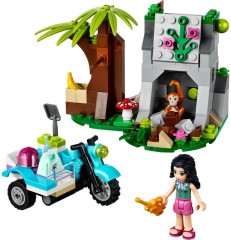 British retailer Tesco has published images of four of the summer Friends sets: three of the Jungle ones, plus Summer Caravan.
We can see clearly now that the sets are focussed around rescuing animals but the range of animals is a bit disappointing: a monkey, a tiger cub and some other feline using the same mould as the lion and tiger but in sand blue. I've no idea what species it's supposed to be. Any ideas? (Update: the consensus in the comments is that it's actually a bear...)
Hopefully Tesco will publish an image for 41038 Jungle Rescue Base as well soon.
(Thanks Keith for the news).