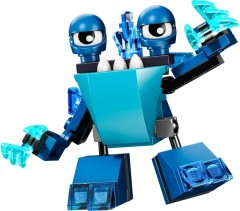 Amazon.co.jp has published pictures of the nine series 2 Mixels sets which it says will be available at the beginning of June.
They are blue, brown and orange. The tribes are named something like Frosticons, Fang Gang and Flexers respectively. Thanks to Dominick for the news and translation.
Update: This image provides more information about the tribes, and their names. The orange ones are Flexers, not Stretchers. (Thanks Allen)
I'm loving the use of helmets over this guy's eyes!