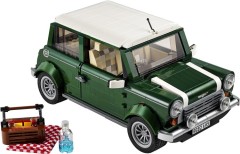 This press release and images were sent out by LEGO in the early hours of this morning UK time for immediate release. Normally they are sent out a few hours before they can be published which, had that been the case this time, I could have prepared the news article before I went to bed :)
Anyway, here it is, better late than never...
10242 MINI Cooper, 1,077 pieces,
US $99.99 - CA $119.99 - AU $149.99 - DE 89.99€ - UK £74.99 - DK 799.00 DKK
Take this MINI Cooper for a nostalgic drive down memory lane!
Experience the iconic MINI Cooper first hand, with its classic lines, detailed interior and fun picnic theme.
Take the iconic MINI Cooper for a drive! This beautifully crafted LEGO brick replica of the classic MINI Cooper Mk VII is full of authentic details, from the classic green and white color scheme with white wing mirrors and racing stripes, to the opening doors, hood and trunk, sporty fog lights, detailed engine and separate spare tire compartment. You can even remove the roof to access a tan colored interior with patterned seats, veneer-style dashboard, turning steering wheel, and moving gearshift and handbrake. And of course, no MINI Cooper would be complete without a picnic basket and blanket, the perfect accessories for a cozy day in the countryside!
Features opening doors, bonnet and boot, spare wheel in separate compartment, detailed engine and 2 fog lights.
Accessories include a picnic basket, bottle and blanket for nostalgic picnic theme.
Authentic replica of the MINI Cooper Mk VII.
Classic green and white color theme with white wing mirrors and racing stripes.
Lift the bonnet to reveal the detailed engine.
Remove the roof and access the detailed interior.
Go on a countryside picnic with this iconic classic!
MINI Cooper measures over 4" (11cm) high, 9" (25cm) long and 5" (14cm) wide.
Available for VIPs from July 18th.
--
I've added all the images and a link to the designer video on the 10242 set details page, although at the time of writing the YouTube video is still marked as private.
Thanks to Matthew who was still up past bedtime for posting the initial news :)