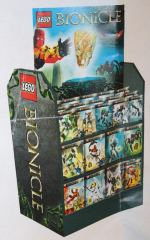 There have been rumours of the return of Bionicle in 2015 in a couple of online forums recently. Now, GrooveBricks has posted a image of a display stand which appears to corroborate them. It shows 13 sets, 5 small and 8 larger.
I wonder what this means for HERO Factory? Has Bionicle's replacement theme not been as successful as Bionicle itself? I think we can guess the answer...
I must admit to having a soft spot for Bionicle so I'm glad to see it return.