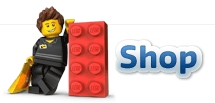 BrickFanatics has published an email that LEGO sent to one of its readers in response to a complaint about the appalling state of affairs at shop.LEGO.com earlier this month. It makes interesting reading:
A lot of things went wrong on the 5th January. We had a lot of technical problems and a lot of fans had many issues. Shambolic is the best way to describe it.

Our team for the shop made many mistakes what caused issues like false or missing pictures, the wrong spelling of words and other problems.

We made a wrong decision with our stock because we underestimated the whole situation. We should have learned from our new Frozen set that we need a big stock because a lot of people wants our new sets.

We made a lot of fans angry and disappointed with the mess we created and we are really sorry that we caused so much trouble.
We will learn from our mistakes and we will forward every problem you mentioned. I hope that we will get your trust in us back this year and don't disappoint you any more.
It's surprising that LEGO has admitted its shortcomings so openly. Personally, I think the biggest mistake it made was to launch so many new products on the 1st January when the world, including the 'team for the shop', I suspect, was on holiday. Also, I find it very hard to believe that it could not have forecast demand for the Frozen set. Surely that was a no-brainer given it's still such a global phenomenon: calculate how many we think we can sell, then double it...
Still, sounds as if it is going to learn from the experience. I guess we'll see what happens next year...
Let us know what you think in the comments below or over at BrickFanatics.