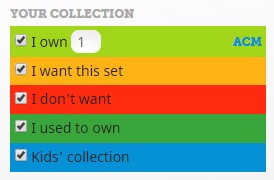 The additional collection flags feature launched earlier in the week appears to have been well received and is being used by over 700 of you already. I've made a couple of tweaks in response to feedback, including adding the most requested feature, 'I've lost/sold/eaten the minifigs!'
Lists of sets flagged can be accessed from new links on the My Sets page. There are also links to enable you to clear them there, too.
You can include them in your queries. They are listed as 'User defined flag 1' to 4. If you want to find all sets you own that also have the 1st flag set, for example, you can create a query to do so.
Finally, and most importantly, you can now elect to use the 4th flag to indicate that you don't have the minifigs for the set. If you check it, minifigs from the set will not be included when determining your minifig collection. You can control this behaviour on your collection checkbox preferences page. Now I will wait for someone to ask 'I have 2 of a set but minifigs for only one of them, can I indicate that somehow?' No, sorry, you can't. It's getting complicated enough as it is!
When testing the no minifigs feature, remember that due to the amount of database crunching that's needed to determine your minifig collection, it's done when you first visit the site, not every time you add a set to your collection. You can manually get the system to re-determine them using the link in the 'Minifigs Owned' box on your My Sets page.
I hope that's useful to some of you.
One other improvement I've made this week is to the lists of sets containing a specific part or minifig, for example, this one. Information about the part or minifig in question is shown at the top of the list and the quantity of the part or minifig in each set is shown in green text in the set listing (when in list view).