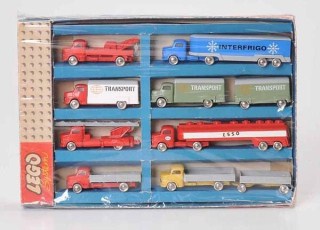 In this article Gary Istok discusses the HO scale (1:87) cars produced by LEGO in the 1950s and 60s which are now worth a fortune:
LEGO items that cross into other genre, such as Star Wars LEGO, have always been highly sought after, by not just LEGO collectors, but other collectors looking for items related to their interests. The first LEGO items that crossed over into other areas were the 1955-70 Town Plan HO Scale (1:87) metal wheel trucks and cars. Few LEGO items command this much interest among non LEGO collectors and LEGO collectors alike. TLG produced a very high quality series of trucks and vans, and collectors of cast 1:87 vehicles also collect LEGO vehicles.
In 1955 TLG introduced the Town Plan system, and with it came an entire range of specialty parts, all geared to the HO train scale. In fact 1955-57 LEGO catalogs even showed the LEGO Town Plan accessories together with Vollmer HO Trains. The first trucks introduced were 8 different Bedford trucks and trailers, including 3 for Esso Service Stations. There was also a flatbed and delivery truck, a tow truck, and a fire engine.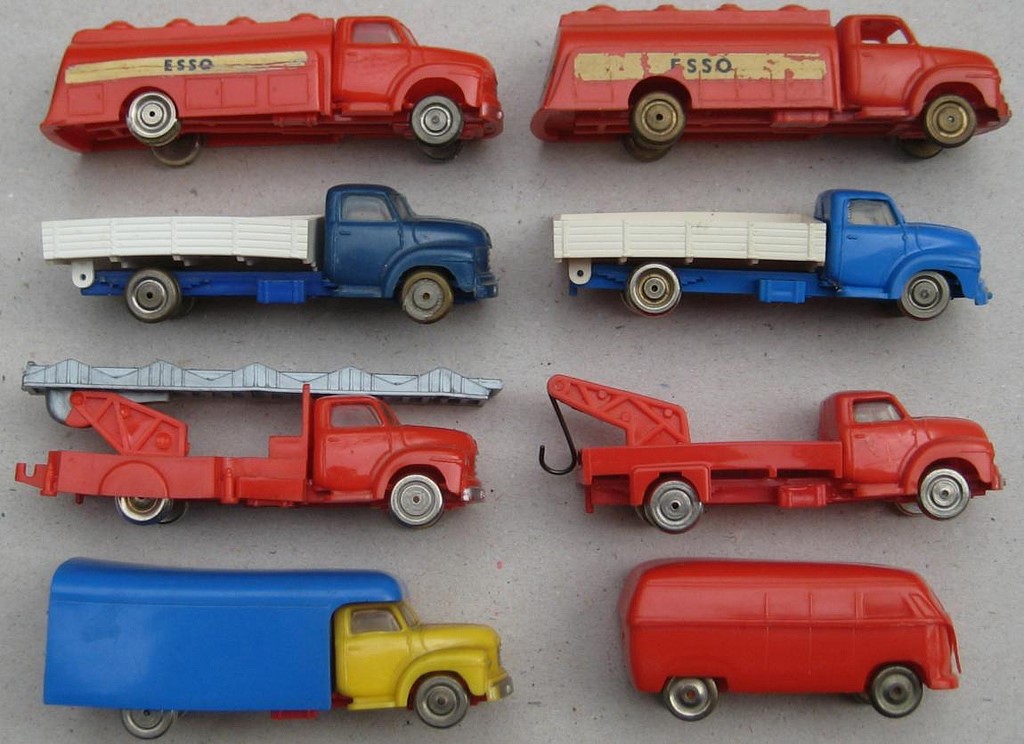 LEGO 1:87 Bedford trucks and buses were produced in Denmark and Norway (and delivered to other LEGO countries). Here we see early 1956 1:87 Bedford Trucks and a VW Bus from Norway, with different wheels than found in Denmark. Trucks with brass wheels (upper right) are especially rare. Some countries, such as Norway and Sweden had unique Esso decals that are worth 500 Euros or more.
The big problem with early LEGO vehicles prior to 1963 is that they are made of Cellulose Acetate. These had a tendency to warp. The flatbed trucks and delivery vans are especially prone to warping. For the most part, this is expected, and doesn't affect value too much, although extreme cases would be less valuable.
In 1957 TLG started producing VW Beetles, which were available in an endless array of colors. Early Bedford Trucks were sold in individual boxes, but by 1958, they were sold loose by LEGO retailers from plain brown boxes of 10 vehicles per box. By 1960 this was reduced to 5 vehicles per box. One exception was the VW Beetle, which was sold in Denmark and Norway (only) in beautiful boxes of 24, and elsewhere in brown boxes of 10.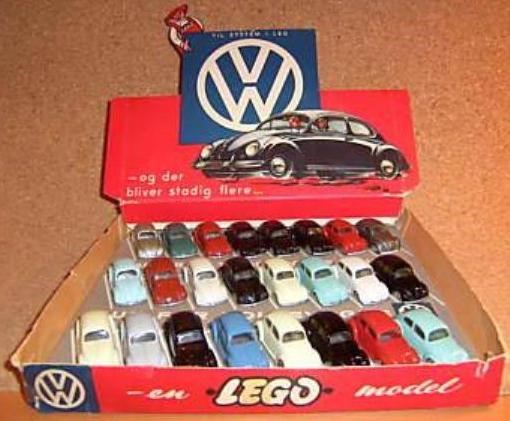 ---
The VW Beetles were sold in all LEGO countries starting in 1957. But only in Denmark and Norway were they sold in very nice large display boxes of 24. In other countries they were sold from smaller brown boxes of 5 or 10. These Beetles had front and back bumpers that broke off easily, so complete vehicles are especially sought after. These were produced in nearly 30 different colors.
From 1961-67 TLG made VW Buses and Vans in 3 major types, but coming in an endless number of varieties, some with turn indicators on the front of the vehicle, others with the turn indicators on the side. These 3 types were the VW Van, VW Pickup, and later in 1965 came a VW Samba Bus.
The VW Vans were sometimes used as promotions for companies such as Phillips, Agfa Film, and several other promotions. Some of these promotional vans are extremely rare, and can command thousands of Euros.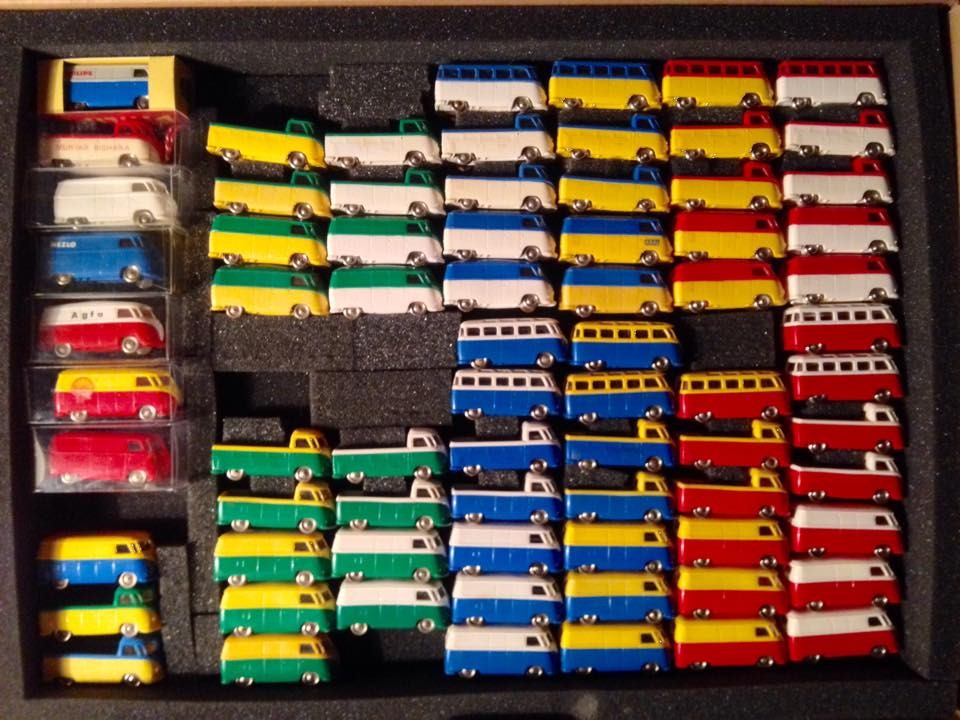 The VW Vans, Pickups and Buses come in an almost endless number of color combinations, in 2 major varieties… with turn indicators on the front of the vehicle, or turn indicators on the side. The promotional vans on the left side are extremely rare. One known example (not shown here) was STEYR DIESEL, with only 30 produced.
Between late 1961 and 1963 TLG came out with a series of cars to go along with the Bedford Trucks and VW Vans, Buses and Pickups. These 8 cars were sold in clear small plastic garages that had studs on top, so that they could be built onto, and came in a large variety of colors. The car types were Mercedes, Opel, Karman Ghia, VW and even two versions of a Ford Taunus. Some of the rarer colors, such as metallic blue, or dark green or burgundy in certain cars could command hundreds of Euros, some of the truly rare ones over a thousand.
Also, in Britain, Ireland and Australia (only), a Vauxhall Victor Estate and Jaguar E Type were introduced, but in only 3 colors, white, red and black. Black Jaguars are very rare, and can be worth over 800 Euros.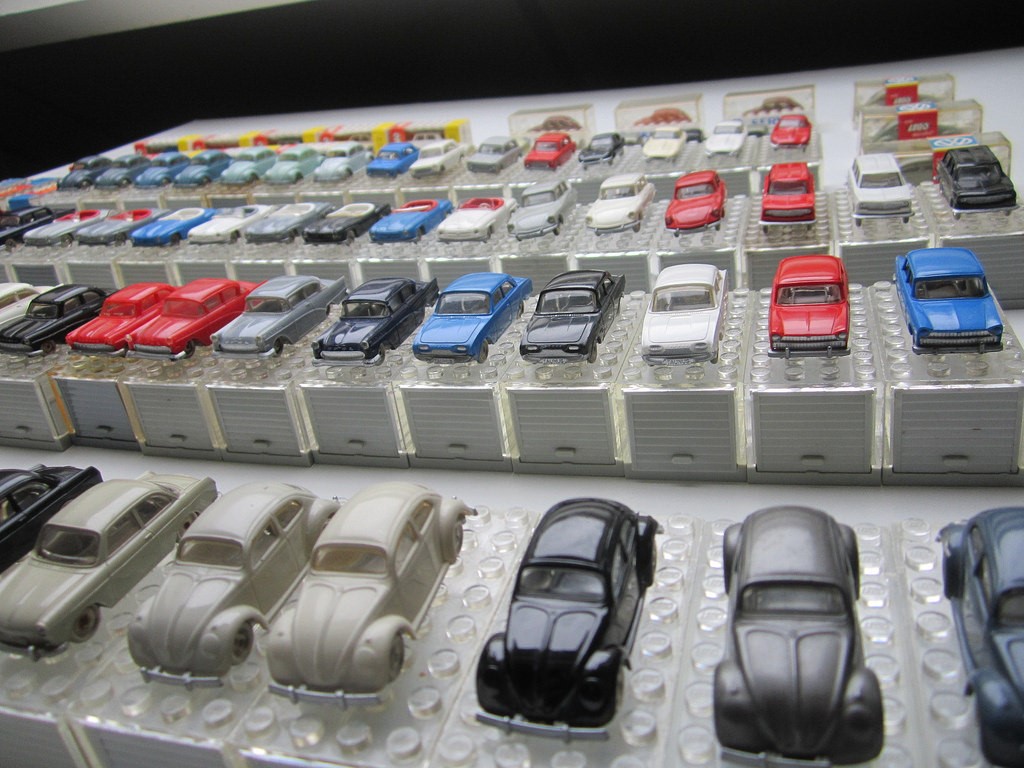 Starting in 1961 eight new models of 1:87 cars were introduced that were sold in clear plastic garages, with a paper band around them. Mint examples with their paper bands still intact can command over 100 Euros or more, depending on the color.
By 1964 TLG was retiring the Bedford trucks, and replacing them with similar Mercedes trucks, and were sold in individual cardboard boxes. In 1965, 1:87 car production continued, with the introduction of a few new cars, but the plastic garages were replaced by cardboard boxes.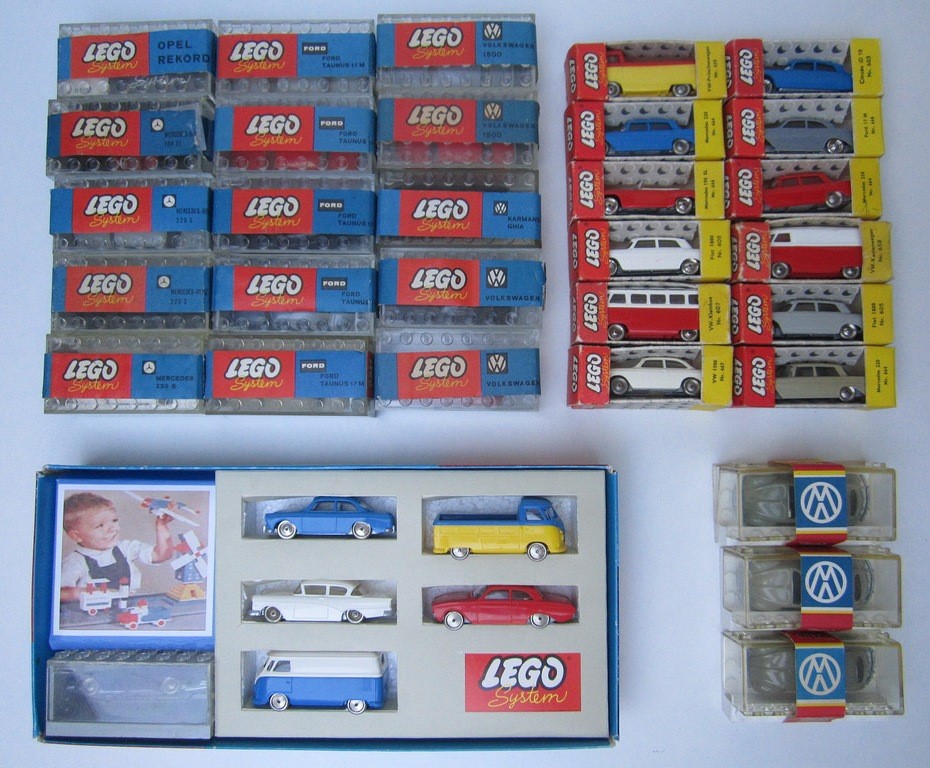 In 1965 the 1:87 cars in plastic garages with bands were replaced by cars in cardboard boxes, both individually, and several larger boxes of 6 or 12 cars. These larger size boxes are rare and command over 1000 Euros or more, depending on the colors of the cars inside.
In addition to 7 of the 8 vehicles introduced in the early 1960s, a few new LEGO cars were introduced in 1965-66, a Fiat, a Citroen, and a Morris Marina. One of the rarest of all 1:87 vehicles is a black Fiat. With fewer than 10 known, one sold for over 3000 Euros 5 years ago.
The Mercedes trucks that were introduced in 1964 were sold in either individual boxes, or an 8 pack. This 8 pack is extremely rare, and can command well in excess of 1000 Euros in better condition.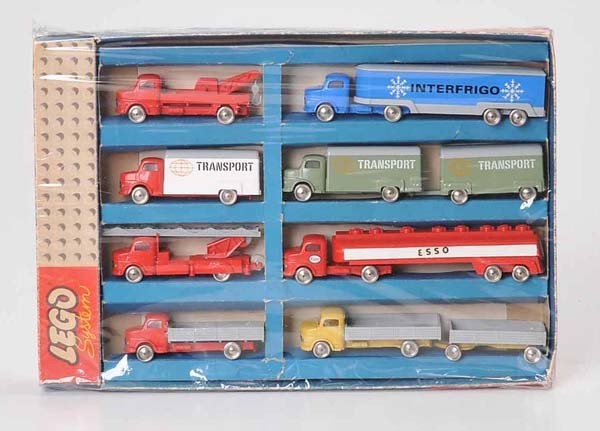 ---
This 699 8 Truck Multi-Pack is extremely rare and collectible. The trucks come in a large array of colors. The large delivery van is known in 18 different versions. Early 699 sets had an Esso tanker truck. Later sets had a Shell tanker. This was because in 1966 the LEGO Esso Service Station was replaced by a Shell Service Station.
Interestingly enough the 1:87 cars are much more common in Europe and Australia than in USA and Canada, while the 1:87 trucks were virtually unknown in North America. Only 3 Bedford trucks were ever found there, only in the 725 Town Plan set of 1961-65.
By 1967 large LEGO trucks and cars made with bricks and wheels with rubber tires were made into sets, and the end of the Town Plan System had arrived. The last of the 1:87 trucks was retired in 1970.
Today all of the LEGO 1:87 vehicles are popular with LEGO and die cast car collectors. Damaged or worn cars and trucks can be had for less than 20 Euros, but better condition and mint examples can fetch many times that amount.
--
Gary Istok is a world renown expert on LEGO who has published a 2000-page LEGO Collectors' guide, which can be purchased and downloaded from here. You can also download a sample chapter.