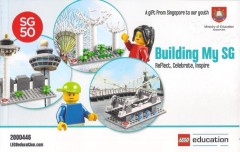 To commemorate Singapore's 50th year of independence, the country's Ministry of Education has commissioned a special LEGO set that appears to have been given to schoolchildren in the country.
Called Building My SG- Reflect, Celebrate, Inspire, it provides parts to enable one of three local landmarks to be constructed: a control tower, a bridge and a tree sculpture modelled after those at Supertree Grove.
This set will probably prove a challenge to acquire for those that have to have everything :)
Thanks to TSMERLION for the image.