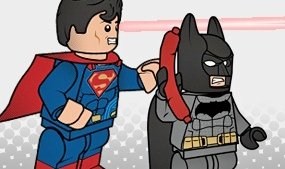 As part of our Super Heroes month we held a competition to design a Super-Heroes themed banner to be displayed at the top of the page for the next four weeks.
There have been some absolutely stunning entries submitted to Flickr and Instagram (among all the Mighty Micros). Entrants used a wide range of methods to create them and I have been blown away by the creativity shown by everyone, particularly as I have no graphic design or art skills whatsoever.
It was incredibly hard to choose a winner but there can be only one, and it is Chris Rumsey! His winning image is now in place and will be there at the top of the page [1] for the next four weeks. I chose it for its originality, how well it fits the brief, the inclusion and placement of the Brickset logo, how it looks at the top of the page and, most importantly, because it features a sausage!
So, congratulations Chris, I will be in touch to arrange for the collectable minifigures to be sent to you, along with some Brickset goodies.
Given the high standard of entries, I have chosen a number of runner-ups who will also receive some Brickset goodies. See them after the break:
Ready Brickset Go! by IamKritch. A very clever design which incorporates both Brickset in an interesting way and features Mighty Micros, the subject of our other competition.
There were lots of entries that used minifig heads in a row with the first letter of each one's name spelling out Brickset. These two were my favourites:
By A. Stormtrooper:
By Grayson Leigh:
I love the comic book feel of this one by Seraph, and the Brickset logo in the middle:
One of the first entries, by TheOneVeyronian is a wonderfully original idea: Tony Stark/Iron Man viewing Brickset on his head-up-display.
This colourful and original work by toarickbrick features Spider-Gwen.
So, congratulations to Chris and the runners up, and thank you all for entering. I will know where to come to should I want custom banners designed in the future!
I will contact the winners via Flickr mail to get your addresses.
Oh, and stay tuned for our Super Heroes designer interview which we will be publishing in the next day or so plus more Super Heroes set reviews.
[1] Note that at screen sizes less than 1024px wide the regular banner will be shown, which will include most tablets in portrait orientation, and phones.