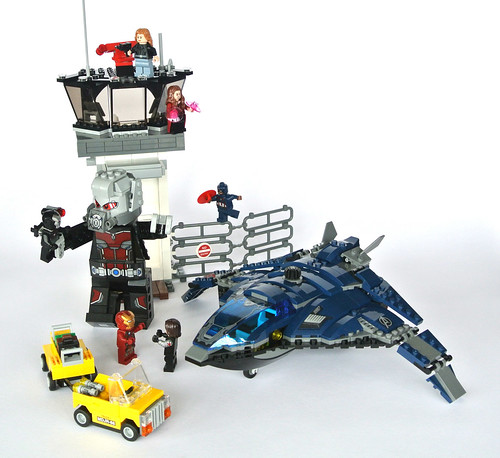 The second part of our review of 76051 Super Hero Airport Battle focuses on the models included. These are often the weak point of Super Heroes sets so my expectations were relatively low prior assembling the set, although the results are a pleasant surprise.
You can read part one of our review here.
The Completed Model
The smallest model in this set is the baggage cart and this is also the least interesting, although it serves its purpose. Construction is very simple but I think it looks fairly realistic as there is space for a driver to control the vehicle and an area to place the three suitcases included. These suitcases are decorated with stickers and each one has a different design featuring luggage tags for Sokovia, Wakanda and Billund, the homes of Scarlet Witch, Black Panther and LEGO respectively! I love spotting humourous touches like these and this set is absolutely packed with them.
A pair of direction batons are fixed to the back of the baggage cart and there is a hidden compartment underneath the rear flatbed truck which can be used to store some more suitcases or even the tiny Ant-Man! Alternatively, this can be used to simulate an explosion as slamming down on the lever will throw luggage into the air.
Airports have been a popular subject matter for LEGO sets since 1970 and every one has included a control tower. This set is no different but the control tower is better than most as it looks fairly impressive from the outside while also being laden with play features on the inside. The base of the tower is connected to a pallet of precariously stacked boxes and these are also decorated with stickers which make reference to Stark Industries, Hammer Industries and AIM, three companies linked by their appearances in the Iron Man films.
To the right of the crates is a fence, the shape of which can be altered freely so you can choose how you want to display the model. Behind the fence is the door to the control tower and this is emblazoned with a warning which reads 'authorised minifigures only,' another nice touch by the graphic designer!
A loading room occupies the ground floor but this seemingly inoccuous space hides a secret as you can push the Ant-Man nanofigure through a little archway and cause the boxes stacked outside to be knocked over. I have not seen a play feature quite like this one in any other sets but it works brilliantly so I hope to see some similar functionality appearing in others soon.
The next level houses a computer and some empty cabinets along with yet another play function. By pushing down on a lever outside you can cause the front wall to collapse in two parts and this looks quite authentic as the wall is built so it will divide with jagged egdes.
The control room at the top features three angled windows which provide superb visibility for a minifigure sitting in the swivel chair. There are two computer monitors in here along with a printed control panel. On top is a rotating radar bar and some communications equipment which completes the tower nicely.
The final model is another Quinjet, the third one released to interact with minifigures and the second in a year following 76032 The Avengers Quinjet City Chase! This model is significantly smaller than earier designs and this might put off some potential buyers, although this was inevitable given that only approximately a third of the 807 pieces in this set are used for the Quinjet.
Despite its small size, this model captures the shape of the Quinjet very effectively and it includes plenty of fun features. By twisting a dial on the top a pair of stud shooters are revealed from beneath and these occupying much of the space in the fuselage.
However, there is just enough room to stand a minifigure in the cargo area. This is protected by a hinged loading ramp and a string is placed inside which can be used to lower a minifigure to the ground without landing.
Another two minifigures can be seated in the cockpit beneath a hinged canopy. This is decorated with a sticker which is unfortunate as trapped air bubbles and dust are particularly visible on clear elements. More stickers are used on the wings but these are less bothersome in my view as they are applied to opaque pieces. The wing profile can be adjusted as the tips are on hinges and this allows the wings to fold up for landing as they do in Avengers: Age of Ultron.
6869 Quinjet Aerial Battle is still my favourite Quinjet model but this is excellent as well and is better suited to being flown by smaller hands due to its lighter weight.
Overall
Super Heroes sets typically provide huge play value by virtue of the minifigures alone but this is a truly extraordinary offering. Not only does the set include plenty of characters with a range of different powers and scales but the models also contribute to the playability and are a great improvement over most Super Heroes models which are little more than a backdrop for the minifigures in many cases.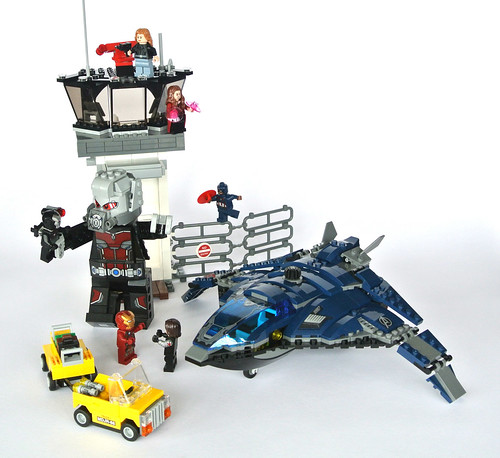 We will be publishing an exclusive interview with LEGO Super Heroes set designer Justin Ramsden later today, so stay tuned!
This set was provided for review by The LEGO Group but the review is an expression of my own opinions.
Sponsored content