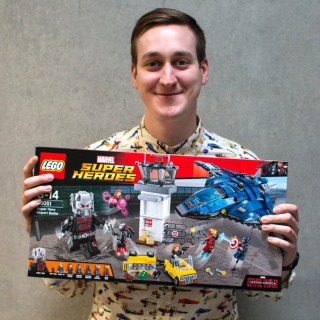 We are delighted to be able to publish an interview with Justin Ramsden, a LEGO designer in the Super Heroes team.
I've known Justin since he was at school, when he used to attend LEGO events with his mum, so I was delighted when he achieved his dream of becoming a LEGO designer last year.
Our interview will shed light on how he did so, what it's like working at LEGO and in particular on Super Heroes sets.
---
Tell us about yourself and how you came to be a LEGO designer. Was it something you always wanted to do?
Hello! I'm originally from a quiet industrial town in the North-East of England (Darlington), and for as long as I can remember, I've always been a LEGO fan since I cast my destructive hands over my older Brother's LEGO Space Police sets. I have also always wanted to influence, inspire and excite others with my work. However, it's only since I attended the very first Inside Tour (in 2004) in my teenage years, that I found out that I could actually get a job designing LEGO sets.
Since all those years ago, the drive and passion to become a LEGO Designer has always stayed. I studied Design at Goldsmiths, University of London and also worked as a Model Designer & Technical Assistant for Merlin Magic Making. For over four and a half years, I was able to design, build & install LEGO models that you can find at many of the LEGOLAND parks all over the world.
---
Your success at getting the job was featured in a recent Channel 4 documentary, shown last year. Was that fun? Was it staged?
When people ask me about the documentary, they always mention the 'phone call' scene. Honestly, what was shown was my genuine reaction to getting offered my dream job. Nevertheless, I'd still happily take an award for my performance.
I loved taking part in the 'Secret Life of LEGO' as for me, it offered a great edited-down documentation of part of my journey to become a LEGO Designer. Now that I've had time to settle down in my job, it's great to watch the process at a more 'relaxed' pace (because when I was in the 'moment', the whole adventure seemed to fly by).
---
Did you have favourite sets/themes as a kid? Have they influenced you as a designer?
Growing up, I used to love the mid-90's Pirate line (most of it was donated from my older Brother's collection), especially the 'Islanders' range. I also had a vast collection of 'Unitron' & 'Spyrius' (including the much loved monorail set - 6991) but, my three favourite sets that stand out from my childhood were 'Skull Island' (6279 - this was also mentioned in the documentary), 'Crocodile Cage' (6246) and the 'Magic Shop' (6020).
Although these are by no means high price-point sets, or packed with Minifigures and play features, they just inspired me greatly and I can remember vividly when & where I was when I built and played with these sets and the adventures that I created in my head to go alongside the bricks.
Recently, I was lucky enough to visit 'The Vault', a collection of every retail LEGO set since the 60's, and spotted these three sets hidden amongst other treasures. This cemented the fact that I really want to make sets that offer the same excitement, memories and play experiences that the numerous LEGO designers (that made my childhood what it was), have done before me. It's amazing to think that one of my LEGO sets could inspire someone to become the next LEGO Designer…
---
How did you find the transition from adult fan to designer and have any aspects of becoming a designer surprised you?
The main transition from an AFOL to a Designer that surprised me was how many people it actually takes to get a set from an idea to the shelves.
The design process takes roughly around one year and through that time, I've had the pleasure of not only brainstorming functions and play-features with my fellow colleagues, but I've worked closely with Model Coaches (who make sure that our sets can actually be built by children) & the Building Instructions Department, to those that are involved with the various processes in Marketing and Manufacturing.
Collaboration is a huge part of the design work and I've loved working alongside such a great team, rather than just building models alone in my bedroom!
---
Is there anything that frustrates you, e.g. things you could do when building your own models but can't for official ones?
Coming from a fan background, I was used to building sets that would be displayed on my desk for a few hours, then destroyed and transformed into something else. However, as a Designer for LEGO, I have to take into consideration every sort of builder - be that a child who has never played with LEGO before, to the most seasoned AFOL.
When building 'official' models, stability needs to be taken into account, along with the age range of the building experience and part type/colour/amount. These were things that I didn't take into account at all. Nevertheless, I wouldn't say that it is a frustration, more a challenge that I greatly accept!
---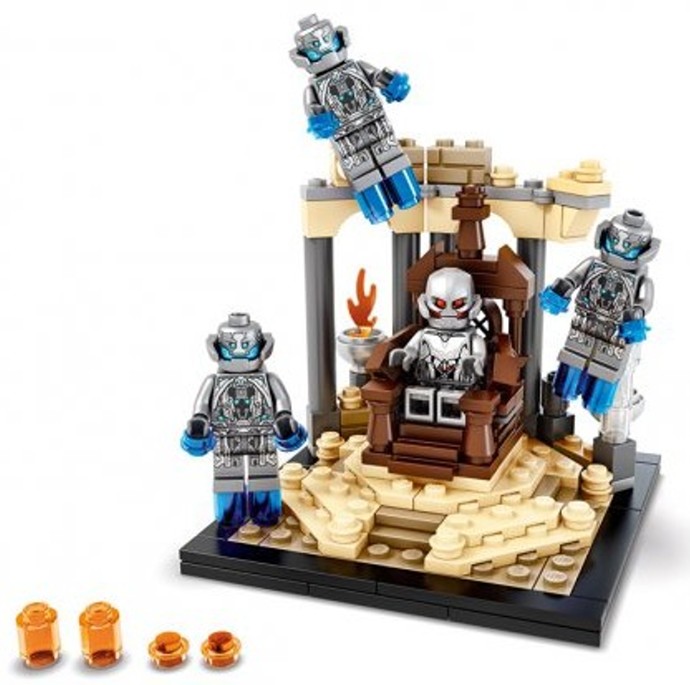 The first set you designed was the Throne of Ultron San Diego Comic-Con exclusive. Is anything done differently when working on sets like that compared to standard sets?
I'm afraid not, sets like the San Diego Comic-Con exclusives go through exactly the same model review and testing procedures to make sure that 'if' the box is opened and the LEGO set is built, you'll get exactly the same play & build experience as you would from a standard retail line set.
---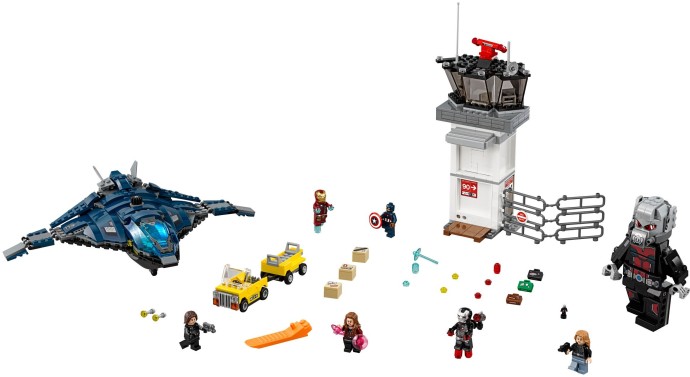 76051 Super Hero Airport Battle is only your second set. Is it unusual for a relatively new designer to create the largest set in a given wave?
I wouldn't say it is unusual, but as the set is built up of 'smaller' builds, it wasn't as difficult as say diving straight into a direct model! Luckily for me, I worked closely with my mentor Marcos Bessa (as I was very new to the job) on early sketch models. I then made multiple design changes (such as scale, colour and functions) and created various iterations using both my Design teammates and the filmmakers input, until I was happy with the end result.
---
How much reference material do you have available to you when designing sets like 76051 Super Hero Airport Battle which are based on a forthcoming film, and how much input do you, as the designer, have into what's included in them?
When designing sets on a forthcoming film, we usual get to read the script way in advance of the movie being launched and decide on the moments (and characters) in the film that would translate best into LEGO sets. We also get sent a vast amount of reference images that we can base our models from - some Designers are even lucky enough to get a visit to the movie set!
Obviously, we have to translate a lot of the vehicles/spaceships/architectures into a manageable LEGO scale, so it can't be a true 1:1 accurate representation, but we try and stay as close to the reference that we are given and create lots of sketch models until we end up with a toy that we are happy with!
---
Of the four sets you have designed so far (that we know about), which was the most challenging and why?
I'd definitely say the most challenging set that I've worked on was 76051 Super Hero Airport Battle. This was because it was my first 'retail' core-line set and I had to stay true to the reference from the filmmakers, whilst trying to create complex shaped models and fun play features that kids could actually build - especially when it came to the likes of the Quinjet and the Giant-Man figure!
That aside, every model that I've worked on has its challenges, but that is what makes every day fresh and exciting!
---
Are there any hidden details or 'easter eggs' which we should be aware of in any of the sets you have designed so far?
I don't want to ruin a lot of the Super Hero universe based 'easter eggs' that are contained within my retail sets (as I will leave that for those that purchase the set to find out). However, I am pretty proud of working with the Graphic Designers to include my Brother's initials on the airport car in '76051 Super Hero Airport Battle' (as this set will be coming out on his 30th birthday), along with my initials on the Airport tower!
---
We notice that you have only designed Marvel sets so far. Does this mean you favour Marvel over DC?
Not at all, I'm a huge fan of both Marvel & DC and it just so happens that I have to date, only designed LEGO sets for the Marvel range, but who knows in the future what could happen…
---
As a product designer are you able to influence or decide which minifigures are included in a given set?
As a Product Designer, myself and my colleagues have a level of say in which Minifigures to include. We work very closely with reference from the filmmakers and alongside our talented Graphic Designers, Marketing team and IP partner in order to make the most exciting sets as possible.
Of course (especially when it comes to a movie related set), the Minifigures that are included make sense with the scene or story that we are trying to re-tell in our LEGO Super Hero universe…
---
Which theme(s) would you like to work on in future?
With all the new comic book storylines and movie plots getting released on an almost weekly basis, working in the LEGO Super Heroes line means that we get to design sets that encompass nearly all the LEGO genres meaning that I get to try my hand at a bit of everything. However, if the LEGO Creator Expert team ever needed a spare Designer to work on a future modular building, I wouldn't say no to helping out…
---
What would be your dream set to design in future?
Without spoiling anything, I'm currently designing it…!
---
How are you finding living in Denmark?
I work in Billund but live in a nearby town called Vejle. I moved to Denmark from London, so Vejle slightly changed my pace of life however, I absolutely love my new 'home' as there are plenty of things to explore (and excite) in the local area. I also live with two other fantastic LEGO employees which makes for some interesting adventures!
---
Thanks Justin! We very much look forward to seeing what else you work on in the future.
You're welcome -- I'll keep my BrickList updated for you.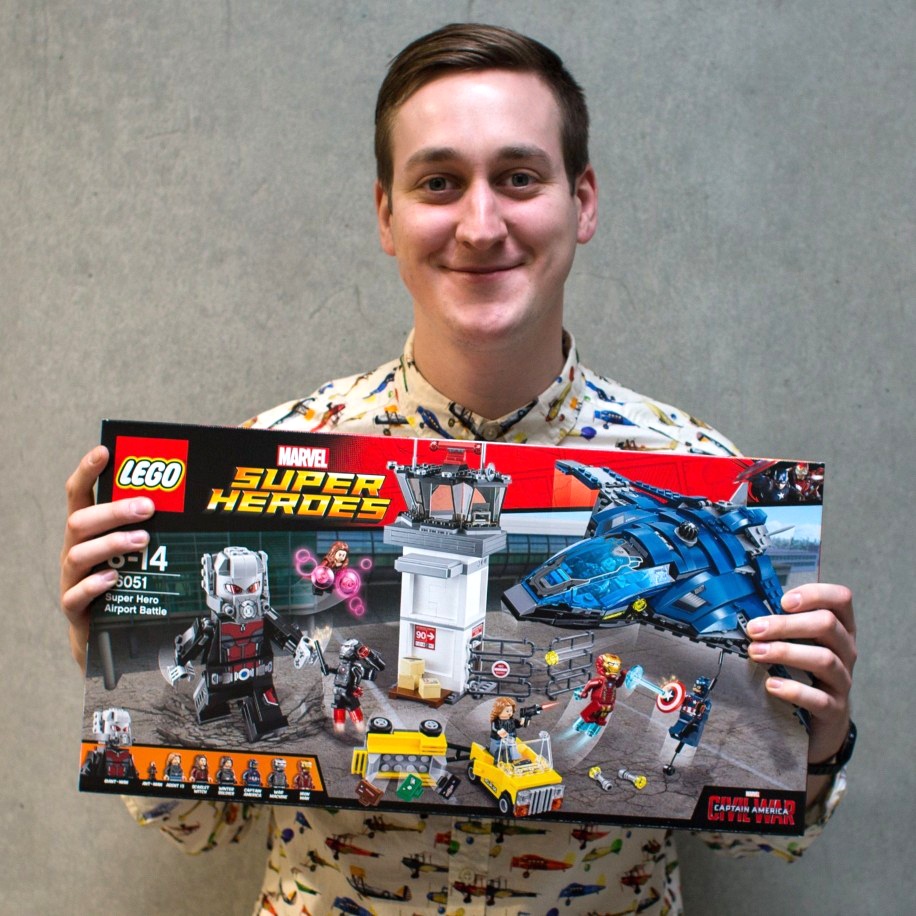 CapnRex101 has recently reviewed 76051 Super Hero Airport Battle in two parts, here and here.