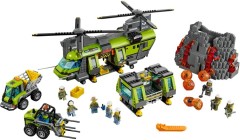 Images for summer Creator and City Volcano Explorers sets have emerged, which is not surprising given they are launched in the USA next month.
They provide us with our first official images of 60134 Fun in the Park, featuring 14 minifigs, a baby and a wheelchair.
Furthermore, this picture of a hitherto unknown Volcano Explorers set, 60125 Volcano Heavy-Lift Helicopter has surfaced. The 1277-piece set was not shown at any of the toy fairs so it's safe to assume that it will be a store exclusive. It's odd that the range of six Volcano Explorers sets contains two somewhat similar helicopters.