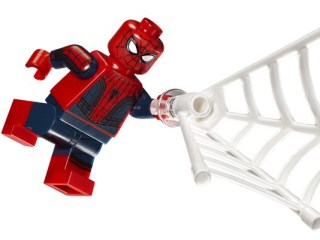 Captain America: Civil War has been dominating the box office since its North American debut two weeks ago. Now USA Today has revealed all the new merchandise you will want to get your hands on featuring the Marvel Cinematic Universe's version of Spider-Man.
Of course, we reported on the reveal of 76067 Tanker Truck Takedown last week, which includes Spidey; but now we get get to see a larger image of just him! Super detailed. The price of the set has also been officially revealed as $29.99, according to the site.
The web slinger will also be included in an upcoming new character pack DLC for LEGO Marvel's Avengers. You can see what his video game form looks like after the break.
Hang tight, because we will have set reviews of the Spidey-centric summer wave of Marvel Super Heroes very soon, right here on Brickset!