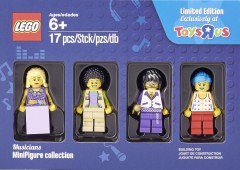 A new series of limited edition minifigure packs exclusive to Toys R Us has been launched in Germany.
The first of four packs -- musicians -- is now available but can only be purchased online. Unfortunately the store only ships to Germany, Belgium, Poland and Italy so many of us will have to hope they make an appearance elsewhere.
Update: Images of the other three have been found by CM4Sci and you can view them here.
Thanks to Separator for the news.