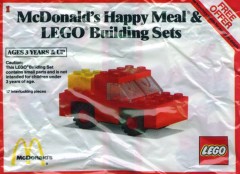 Yesterday we reported that the items offered in the next LEGO-related Happy Meal promotion are nothing to get excited about, but that hasn't always been the case.
Since McDonalds first started offering toys with kids meals in 1979 LEGO-related items have been included around a dozen times. The first time was in 1983.
In today's Throwback Thursday article I look back at the good old days when they actually contained proper bricks. I won't claim that it's complete or entirely accurate because there's conflicting information on other LEGO sites and I haven't been able to find a definitive list of promotions anywhere else.
---
The first promotion offered four Basic and four Duplo sets.
The Basic sets, 1912-1915, consisting of around 20 pieces each, built a car, boat, helicopter and aircraft. The Duplo sets consisted of two nondescript animals, a bird and a boat.
There's some dispute about the release date of the Basic sets: we, and the LEGO Collector book, state it was 1983 but BrickLink claims 1989. I'm fairly certain it's 1983 because as you will see below the sets in the 1989 promotion were more sophisticated, and the labelling on these matches that on the 1983 Duplo sets which BrickLink agrees were produced in 1983.
Throughout the article you can click on the image to enlarge it, and on the year titles to view the sets in the database.
View image at flickr
---
Concrete Information about this one is particularly sketchy. We and Bricklink have just two sets listed, 1546 Aircraft and 1548 Stena Line Ferry. However this list of the 50 coolest happy Meals toys of all time (at no. 25) claims there was also a boat and a race car. The LEGO Collector book just lists 1548.
This site also claims there were four of them and that they were sold separately rather than coming in Happy Meals.View image at flickr
---
Cars, boats and planes were again on offer in 1989, along with Duplo 1640 Tuttle the Turtle. They are numbered 1A, 1B, .. 4A, 4B which I presume means that the A and B sets can be combined to make a larger model.
View image at flickr
---
1999 marked a high water mark for LEGO's co-promotions with McDonalds.There were two Happy Meal promotion that year and 3438 McDonalds Restaurant was available from LEGO shop at Home in the USA.
The first set of eight Happy Meal toys built vehicles like most of the others before. Inside each was an instruction sheet showing how to combine several of them together to make larger models.
They all come with a 2x3 slope printed with a McDonald's character, including Ronald.
View image at flickr
---
These eight sets came with bricks printed with whacky eyes, mouths and faces that are unique to them. They too contained a sheet of instructions to encourage creativity, but rather than showing how to combine multiple models they provided ideas for making different monsters from the parts in the set.
Unfortunately, this was the last time that regular LEGO bricks appeared in a Happy Meal toy.
View image at flickr
---
In the year that Bionicle launched this set of six miniature Matoran sets, one for each of the elements, was offered. They contained eight pieces, some of which could also be found in regular Bionicle sets, but it wasn't LEGO as we knew it...
View image at flickr
---
These appalling sets were released the same year that the equally appalling Galidor theme launched. Although consisting of three or four parts, they bear no resemblance to regular LEGO parts.
The only saving grace of the promotion was the cute Duplo 1384 bird.
View image at flickr
---
I believe this promotion, featuring eight sports sets and seven Clikits sets, was offered in North America only. The sports sets are shockingly bad, but at least they had studs on some of the parts, as you can see in this sample inventory at BrickLink. They'll almost certainly be made from a cheaper plastic so probably don't stay together too well.
The Clikits sets, on the other hand, contained regular Clikits parts.View image at flickr
View image at flickr
---
Things started to go downhill during the latter half of the noughts. In 2006, 2007 and 2008 cheap plastic Bionicle figures were offered, along with eight toys tied in with the release of LEGO Batman videogame. We haven't soiled our database with them but you can find them at BrickLink.
We do, however have this set of racing cars from 2009 listed which, again, are made of a cheaper plastic but do use studs for connecting the three component parts.
---
2014: The LEGO Movie, 2017: The LEGO Batman Movie
Nowadays we don't even get proper toys, just cups, puzzles and other gimmicks. The days of quality toys in Happy Meals is well and truly over and perhaps putting toys in meals to encourage demand from kids is also coming to an end, according to this article published just a few days ago...
---
All the sets that are co-branded McDonalds have now been tagged so are easy to find. I am aware that other sets, particularly Duplo ones, were also offered as part of the Happy Meal promotions but they aren't branded McDonalds.
---
Do you have happy memories of getting real bricks with your chicken nuggets? How many did you manage to collect? Can you shed any light on the early promotions? Let us know in the comments.