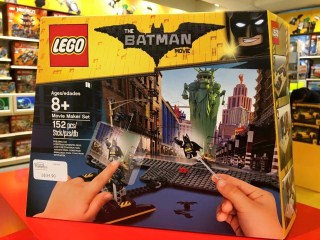 Remember the Studios movie maker sets from the turn of the century, such as this one? Back then digital cameras were a rarity and iPhones were just a figment of Steve Job's imagination so as well as bricks to build a movie set and minifigs for actors the sets provided a webcam with which to take low-res stills for stop-frame animations.
17 years later LEGO has resurrected the idea with this The LEGO Batman Movie Movie Maker Set. Now of course everyone has a smartphone so a camera is not provided, just a stand for one. It looks as if it also comes with a printed backdrop, a Batman minifig and... not much else. At least the price seems reasonable, $34.90 (Singapore dollars I am told, which is about $25). The set number is not known but we'll add it to the database when we do.
View a large image after the break.
Image from Brickfinder on Facebook, via Brick Heroes.
Update: Jun, provider of the the original image, has posted a review at brickfinder.net.