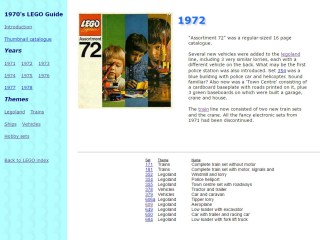 Today is something of a milestone: it's the database's 20th birthday! On this day back in 1997 I announced my first LEGO set guide in the usenet newsgroup rec.toys.lego.
The guide contained sets that appeared in UK catalogues in the 1970s, of which there was scant information available on the Internet at the time.
To mark the occasion I thought it would interesting to resurrect an old version of it, briefly discuss the early history of LEGO databases, and to find out what other LEGO fan sites looked like in 1997.
---
Huw's LEGO pages
At the time it was difficult and expensive to set up a web server and register a domain so it was hosted on my personal home page, an area of web space provided by my internet service provider. The Brickset name and domain didn't exist until until mid-2000.
The earliest version of the site that I have archived is from early 1998 and it's back online for your viewing pleasure at archive.brickset.com. As well as the 1970s set list, by that time I had added a lists of sets released in 1998 and also details of promotional sets that were available at the time, which quickly became the site's raison d'être.
Visit http://archive.brickset.com
The information went on to form the basis of the Brickset database that's still in use today.
---
The earliest LEGO listings
It could be said that I was late getting started. The first known online listing of LEGO sets was created by Jeffrey T. Crites who posted a list of Castle sets in the usenet newsgroup rec.toys.lego in 1994, which was way before most people had access to the Internet.
As far as I am aware the first websites to publish lists were Todd Lehman's Fibblesnork LEGO guide, which started out with Space and Aquazone sets in January 1996 before adding other themes later that year, and Lou Zucaro's Pause Magazine LEGO reference, also established in 1996, which had a wider coverage.
The two sites existed until 1998 when they were moved to LUGNET.com which came online that year. Later, in September 2000, Todd launched the LUGNET Guide to LEGO products, which inherited data from both sources. The final versions of the original sites are still online.
Visit http://www.lugnet.com/fibblesnork/lego/guide/
Visit http://www.lugnet.com/pause/
---
Other LEGO sites from 1997
So, what other LEGO sites were around in 1997? A good place to find out is at Fibblesnork's Cool LEGO Site of the Week list that highlighted an interesting site each week between 1996 to 2003, and which is now archived at LUGNET.com.
Visit http://www.lugnet.com/cool/
Like my own pages, the vast majority were personal home pages on ISP or university web servers so are no longer online, but I did find a couple that can still be reached:
Suzanne Rich's random minifig generator at Baseplate.com:
Visit http://www.baseplate.com/toys/minifig/
Rec.toys.lego LEGO set review archive:
Visit http://alumni.cse.ucsc.edu/~dulcaoin/reviews/
LEGO's online presence commenced in 1996 and in 1997 looked something like this:
Visit a 1997 version of lego.com at the Wayback machine
What about other popular LEGO sites? Most did not exist until the 21st century: Peeron.com was launched in 2000, BrickLink in 2000 (originally called Brickbay until 2002), Eurobricks in 2003 and Brothers Brick in 2006.
---
Were you using the internet and into LEGO in 1997? If so, I hope you enjoyed this brief trip down memory lane. What other sites do you remember from that time?
The early history of LEGO websites is a fascinating subject (to me, anyway) and I think it's worth researching it more thoroughly for a future article. If you're interested in getting involved, do let me know.
Thanks to Todd Lehman for information relating to Jeff Crites' list, the Fibblesnork LEGO Guide, LUGNET and Pause.
---
If you want to know more about Brickset's past, check out this article I wrote in 2014: Brickset through the ages.
Sponsored content