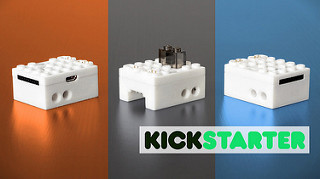 Last month we told you about an exciting programmable brick, PFx Brick, on Kickstarter that's been designed by well respected members of the AFOL community Jason Allemann (of Ideas Maze fame) and Michael Gale.
PFx Brick is a programmable electronic brick controller designed to offer three major functions for LEGO models: motor control, lighting effects and sound effects.
Funding for the project ends in six days and it's achieved 38% of the required total of CA$140K so far, so if you're interested in seeing it to production and getting hold of one then now would be a good time to pledge your support.
Since we mentioned it last time, Bluetooth support has been added which now makes it much more versatile.
Head on over to Kickstarter to do so, and to find out more about the brick's capabilities.
Sponsored content