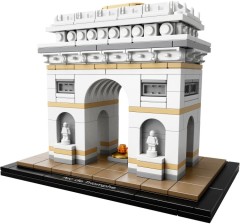 21036 Arc de Triomphe was revealed at the Nuremberg Toy Fair in January but the first official image has not arrived until today. It shows some intricate reliefs on each face of the arch as well as the Eternal Flame above the Tomb of the Unknown Soldier in the centre.
The set will be available on the 1st of August and will cost $39.99 in the US or €34.99 in Germany. The UK price has yet to be confirmed.
News via Zusammengebaut.