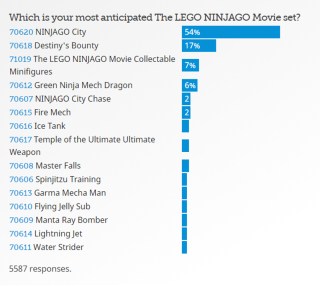 Last week we published a poll asking which was your most anticipated of the fifteen upcoming sets based on The LEGO NINJAGO Movie. We received well over 5000 responses so many thanks to all those who voted.
It comes as no surprise that the two largest and arguably most visually impressive sets, 70620 NINJAGO City and 70618 Destiny's Bounty, occupy first and second place respectively. Both are highly detailed and incorporate some great building techniques so seem sure to impress almost everyone, reaching even those who have never given any consideration to purchasing a NINJAGO set before now.
However, many of the other rankings were more remarkable and these are discussed below...
The results in full are as follows:
I am aware that there is some discrepancy between the percentages shown in the poll and those I have listed here. The percentages in the poll are all rounded down whereas these have been rounded to the nearest integer.
---
Why did 70607 NINJAGO City Chase rank so highly?
Containing just 233 pieces, 70607 NINJAGO City Chase is among the smallest sets in the first wave. Nevertheless, it surpassed much larger models such as 70615 Fire Mech and even 70617 Temple of the Ultimate Ultimate Weapon to finish in fifth place which is satisfying as I am always pleased to see small sets punching above their weight. The decisive factor was presumably the exceptional minifigure selection included and the set is priced at a very reasonable £14.99 or $19.99 which likely had a part to play in its popularity as well.
Why did 70611 Water Strider fare so poorly?
70611 Water Strider received just 37 votes so came in last place, although only by a slim margin. I was a little surprised at this result as mechs are often popular and the set seems to offer excellent value in the US where it costs just $29.99. Furthermore, the set is among those which contain an exclusive minifigure as the Puffer Army Thug is not currently available anywhere else. Perhaps the Water Strider's comparatively drab colour scheme and the perceived higher quality of the competing mechs drove it down the list.
Why did 71019 The LEGO NINJAGO Movie Collectable Minifigures perform well despite some apparent disappointment?
The twenty Collectable Minifigures based on The LEGO NINJAGO Movie were revealed last month and received a fairly positive reaction on the whole. However, many expressed disappointment that over half of the characters represented appear in sets and suggested that the Collectable Minifigures could have offered greater variety. This assessment seems reasonable to me but the availability of popular characters and exclusive elements clearly hold considerable appeal and the Collectable Minifigures range evidently remains in demand, even after 25 series!
Why did 70616 Ice Tank rank above 70617 Temple of the Ultimate Ultimate Weapon?
This was probably the most surprising aspect of the poll for me. 70617 Temple of the Ultimate Ultimate Weapon garnered a great deal of admiration when the range was unveiled in June but received fewer votes than 70616 Ice Tank which seemed to divide Brickset members upon its reveal. Maybe the absence of exclusive characters worked against the larger set or the consistent popularity and inherent playability of vehicles bolstered support for 70616. Even so, this result seems surprising.
---
Did any of the results surprise you and why do you think certain sets performed better or worse than others? Let us know in the comments.
Sponsored content