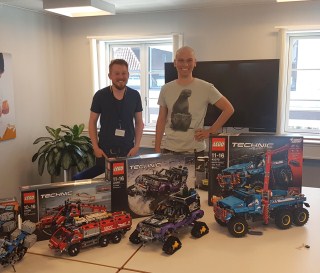 2017 marks the fortieth anniversary of LEGO Technic and the theme has deservedly been receiving a great deal of attention this year.
Brickset was able to interview two Technic designers, Milan Reindl and Samuel Tacchi, while in Billund last month and together we discussed a wide range of topics including aspects of the design process, sources of inspiration, the fan response to recent sets and further details of those being released this summer.
You can read the full interview after the break...
Brickset: How did you each become involved in LEGO Technic?
Samuel: I'm a relative freshman, having been here for just a year and a half. I have a background in industrial design and I was a motorcycle designer before coming to work for LEGO. When the chance came up to become a Technic designer I immediately applied as I have been a LEGO fan for years and luckily I was successful!
Milan: I have been working on the Technic design team for five years and was originally a teacher so have no design background whatsoever. I was instead an adult fan in the Czech Republic building Technic models in my free time and proved to be sufficiently good to become a junior designer in 2012.
Brickset: Did you encounter any challenges when making the transition from being a fan designer to an official product designer?
Milan: I had to learn how to ensure the absolute structural integrity of a model as well as how to introduce different colours. As a fan designer, I was building vehicles which might be entirely one colour because I was not considering whether people would be able to recreate them. Building with multiple colours results in a more enjoyable experience for both children and adults as you don't have to spend ages searching for a particular black piece among many hundreds of other black pieces.
Brickset: Technic sets are famously complicated and contain many different functions so how do you go about designing them?
Milan: If we take the example of 42054 CLAAS XERION 5000 TRAC VC from last year, we began by meeting with CLAAS and discussing the functions of the real tractor with them. These include three different kinds of steering and the rotary cab so you can drive it in either direction. Typically, we would not be able to include features like those in a Technic set but with support from CLAAS we could study the real functions and then consider how to recreate them with LEGO. I think finding the correct machine and partner from which to take inspiration is very important.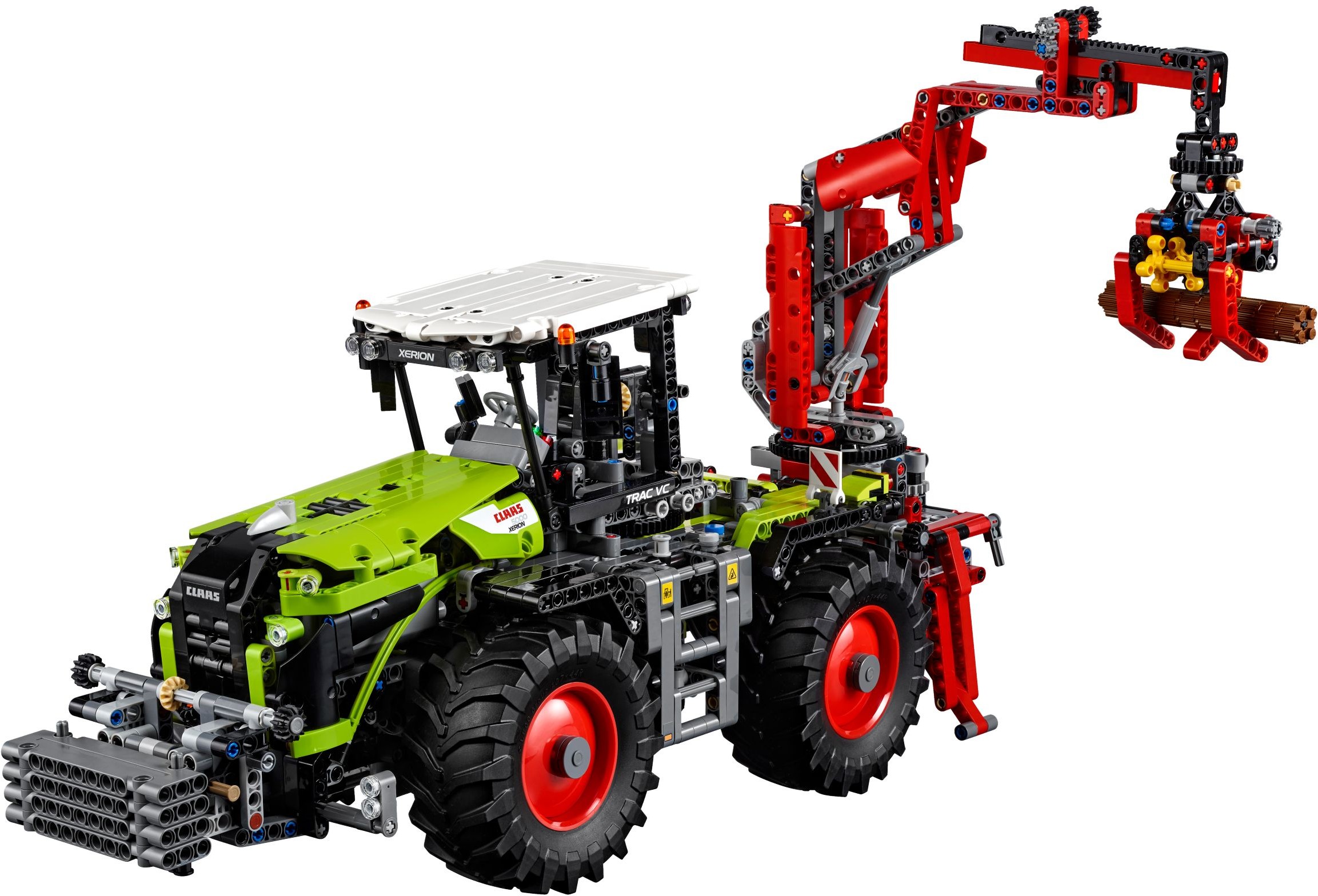 Samuel: We are completely driven by our core values of authenticity, functionality and creating a challenging but rewarding building experience so just have to explore every aspect of a model while keeping those targets in mind.
Milan: It is frequently necessary to engage in trial and error, attempting many different ways of building something until we come across one which works perfectly. That can be quite difficult as we do not have unlimited time but hopefully we succeed more often than not!
Brickset: In what ways is LEGO Technic celebrating its fortieth anniversary?
Milan: We have included commemorative bricks in all our sets this year and we partnered with BMW to create the hover bike alternative model in 42063 BMW R 1200 GS Adventure which is something we have not done before. We also wanted to create a special treat for long-term fans of Technic by designing a modern homage to a classic set. I was asked to use parts from the sets we released in the first half of the year and created an updated version of 8860 Car Chassis from 1980, in part because that is the year I was born but also because I think it is one of the most famous and innovative sets of the last forty years*. Moreover, the designer of the original chassis is still working in the LEGO Technic design team so we wanted to pay tribute to him. It was quite a challenge to incorporate almost all the functionality of the original but I am very pleased with the result.
* You can read FlagsNZ's excellent review of the 40 year anniversary model here.
Brickset: Last year we were treated to the fantastic 42056 Porsche 911 GT3 RS. What kind of feedback has that set received?
Milan: We have received very positive feedback overall and looking back on the model is quite inspiring as it sets a high standard for us to try and surpass in future. It looks great and is really packed with functions which show exactly what is possible with LEGO Technic at the moment. Porsche were also very happy with the set so I think we were able to satisfy pretty much everybody.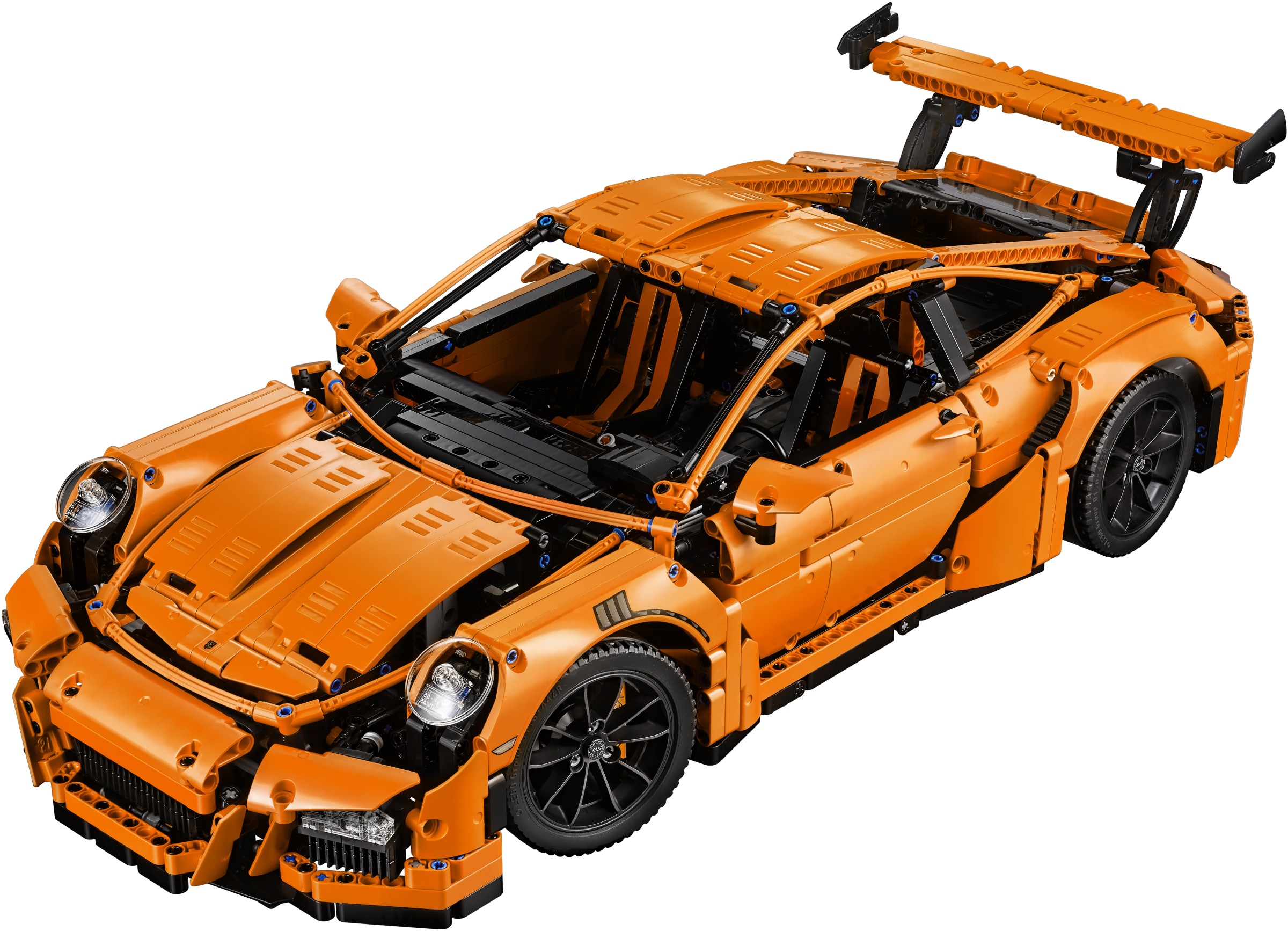 Brickset: Would it therefore be reasonable to assume that we might see more models of a similar style in future?
Milan: Absolutely, we have announced that there should be similarly enormous sets based on cars released in the future.
Brickset: 42055 Bucket Wheel Excavator was also released last year. Do you think there would be the potential to build an official set even bigger than that?
Milan: I think there is always the potential to go bigger. We received very positive feedback about that set too, not only the primary model but also the alternative Mobile Aggregate Grader. 42055 Bucket Wheel Excavator has proven that we can create models containing over 4000 elements as long as we choose the right subject matter which can hold such a weight of parts together. We definitely have yet to reach the upper limits of LEGO Technic in my opinion.
Brickset: Are there any vehicles which you would like to build but have not been able to so far?
Milan: Over forty years of the theme there are few vehicles which we have not done! We are constantly inspired just by driving around and seeing things that look really cool in reality so we try to make them equally cool, or even more so, in Technic.
Samuel: We are definitely always looking for new challenges every year and constantly trying push the boundaries, either by improving on vehicles we have done before or seeking out new ones.
Milan: Personally, I would love to do an absolutely huge jet plane of some sort, bigger even than 42025 Cargo Plane or 42066 Air Race Jet.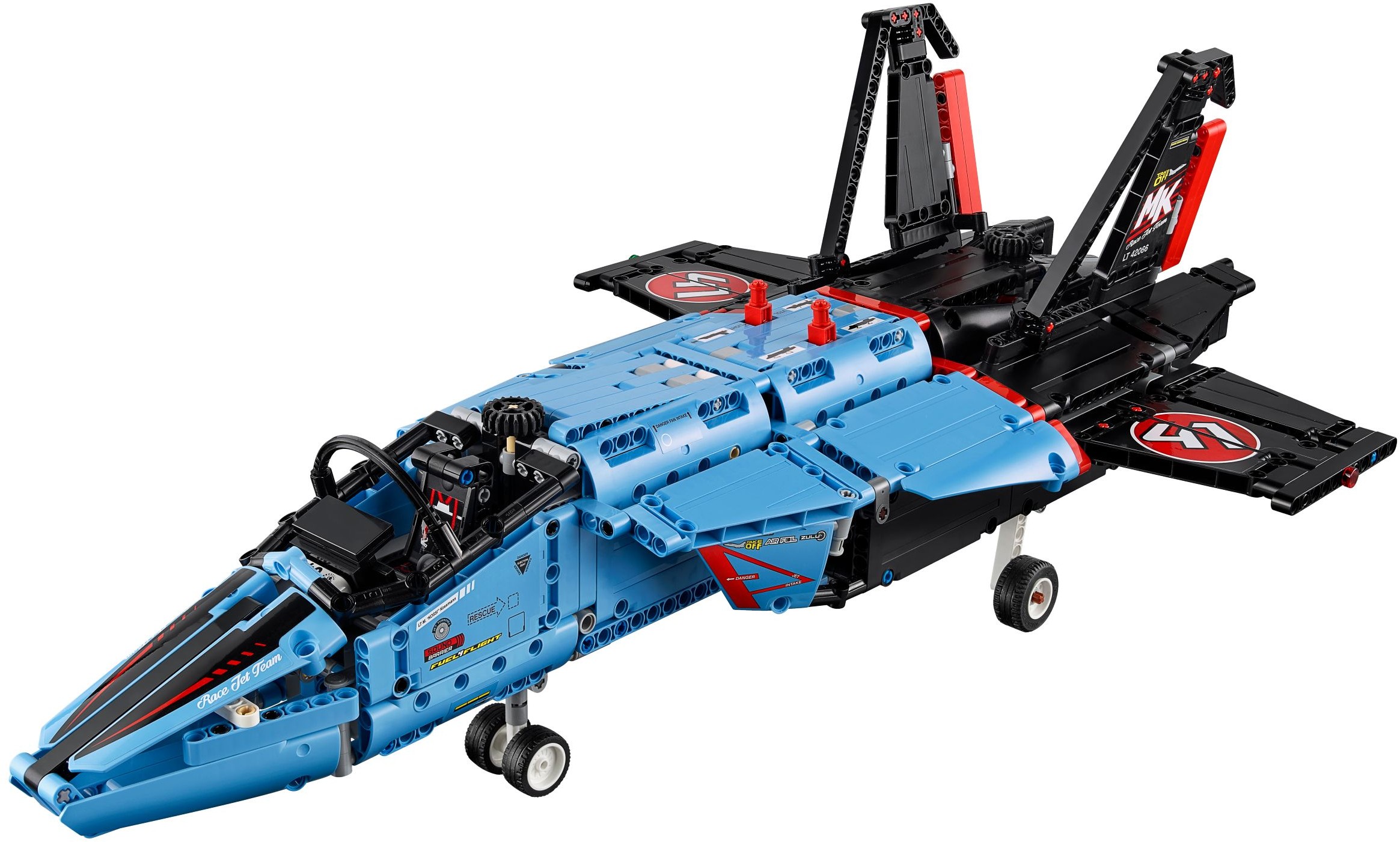 Brickset: The integration of Technic and System parts seems to improve year on year. Are there any plans to further integrate the two systems in future?
Milan: System sets sometimes rely upon Technic bricks to form the inner frame, as you will be aware. We try to stick to Technic alone just to maintain consistency, although you may notice that we are increasingly using System parts for details in our models. However, we probably would not go in the direction of the Model Team range in future, simply because we think if you are more interested in System bricks then you could get something like a Creator Expert car whereas those to whom the technical detail appeals might find more to enjoy in a Technic set. To overlap too much might alienate both groups of fans.
Brickset: Some people have been a little disappointed with the 2017 range in relation to the exceptional quality of the sets in 2016, particularly since it is the fortieth anniversary of the theme. What is your response to that?
Milan: Some people may feel that way but we hope most will think we improve every year. In 2016 we had many licensed Technic models whereas this year we have only one which might have caused some disappointment, although we cannot entirely control when we partner with particular brands so that is out of our hands to some degree. Also, we have really tried to offer something brand new and very different to what has gone before with the sets in the second half of this year so hopefully that will appeal to everyone.
Brickset: Speaking of the sets for the second half of this year, 42068 Airport Rescue Vehicle has been in the Brickset database for quite a long time. Was that originally planned for release in 2016?
Milan: Yes, it was planned for the summer wave last year but given the plethora of licensed sets we wanted to make sure that 42068 Airport Rescue Vehicle did not get overlooked. I think it is a really cool model so it would have been a shame to release it among so many much bigger sets, only for it to receive comparatively little attention.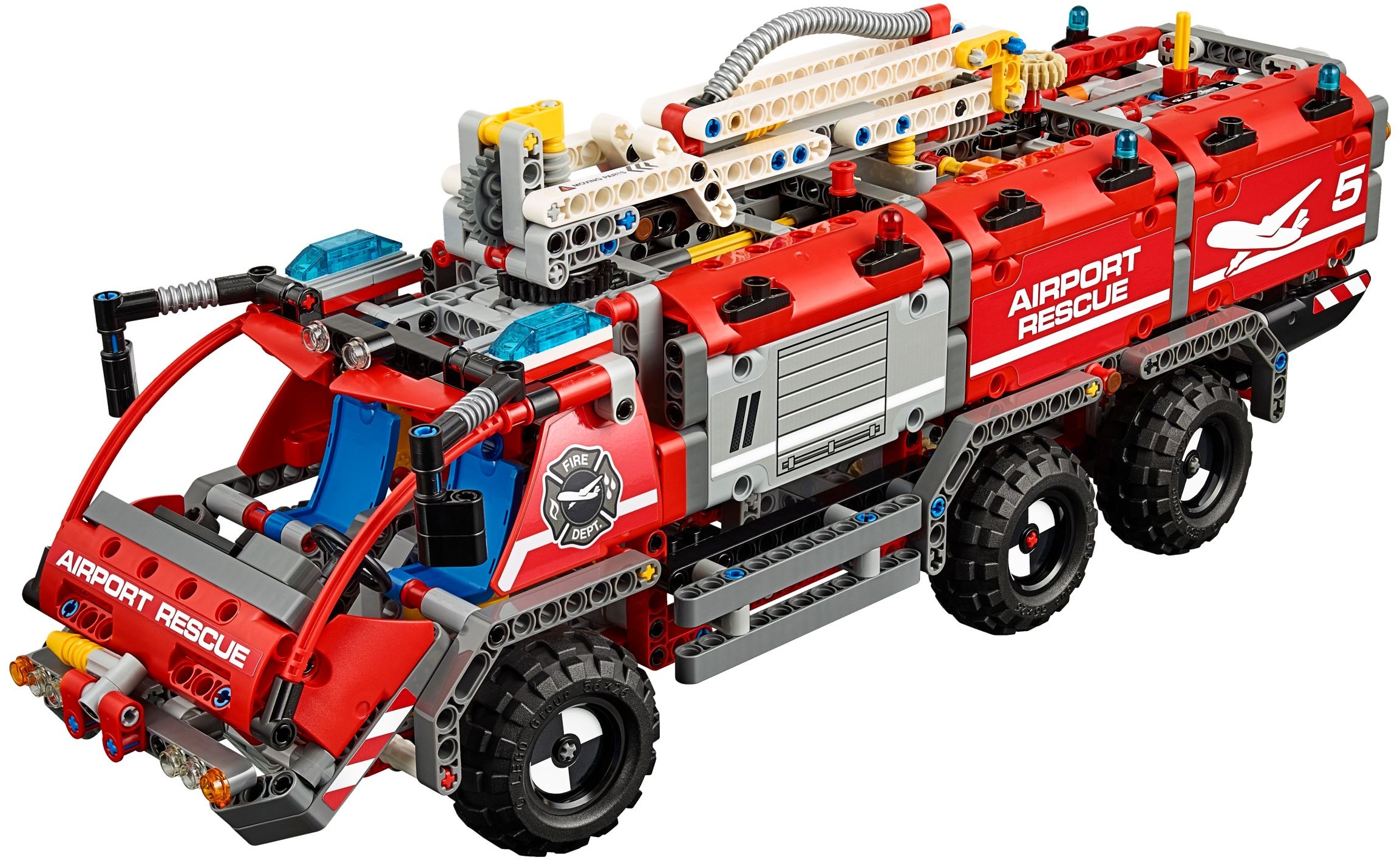 Brickset: What can you tell us about the three upcoming Technic sets for the second half of 2017?
Milan: Starting with 42070 6x6 All Terrain Tow Truck, the set contains 1862 pieces and primarily consists of dark azure bodywork which is a new colour for LEGO Technic. It uses six of the huge tyres introduced with 42054 CLAAS XERION 5000 TRAC VC and the yellow rims also make a return, having not appeared since 42030 Volvo L350F Wheel Loader. We were also very pleased to include the #3 angle connector in red as that is something which last appeared in 2011 and that fans have been wanting to be more readily available for a few years now. Of course, best of all is that you get a teddy bear for the front!
Brickset: So integration with the fans regarding new parts is something that you really value?
Milan: Absolutely. We also think it is really cool when we see Technic elements used in other themes, in Friends sets for example, where they use colours which we in the Technic design team would probably never use, at least until we produced 42069 Extreme Adventure in purple. It is fun having parts available in the widest variety of colours possible so we are always glad to see our pieces appearing in other product ranges.
Brickset: It looks like there is also a new type of string in 42070 6x6 All Terrain Tow Truck.
Samuel: Yes, it also appears in 42069 Extreme Adventure. We decided that the old string was not strong enough for the largest models so we created a new kind which is wrapped in a metallic weave. It should now be a lot less likely to break even when dragging an entire vehicle up a hill.
Milan: While we are on the subject of 42069 Extreme Adventure, that is something completely different as the model is completely mechanical, with no Power Functions. We really focused on creating an immersive building experience and including as many features as possible on this one, some of which are very unusual for a Technic set. It contains well over 2000 pieces and includes front axle steering, suspension, all track drive, a retractable winch and a raising roof tent along with many other functions. I am very excited about how the doors open but we do not want to spoil everything!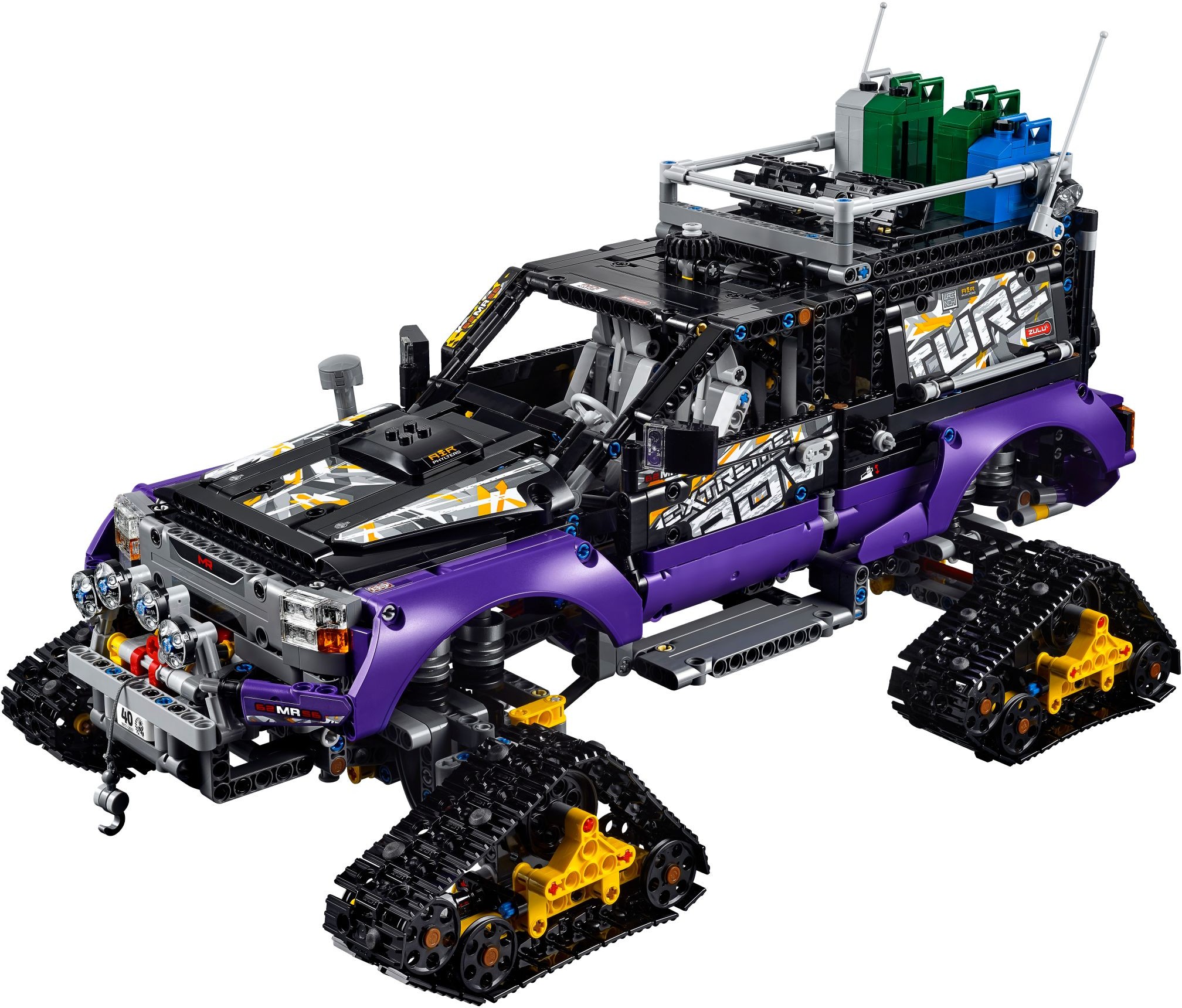 Samuel: I think this set has a lot of storytelling potential, perhaps more so than we have attempted in the past. Hopefully people will respond well to it.
Brickset: The wheel arches notably appear in purple for the first time. It has previously been mentioned that purple was considered as a possible alternative colour for 42056 Porsche 911 GT3 RS so was it a conscious choice to include those wheel arches in purple here?
Milan: To be honest we were just trying to go for an extreme and outlandish colour! We did consider purple for the Porsche but it is just a coincidence on this occasion.
Brickset: How do you go about deciding on a B-model for Technic sets?
Milan: We always try to offer something that is fresh and completely different. Of course, we have to use the parts from the A-model to their fullest potential and we hope to inspire fans to do the same, perhaps with the parts from just one set or by combining several as we did for the fortieth anniversary model. In some cases it is based on a real vehicle but we also use this opportunity to create a few fantasy vehicles which look realistic but may not be based directly on anything that really exists.
Samuel: It is also a great way to explore new concepts and ideas for functionality that we may use in future A-models.
Milan: That is often the most difficult aspect of designing a B-model. We try to include as many features in the secondary model as we do in the A-model so sometimes that means creating two separate vehicles or having a truck and trailer.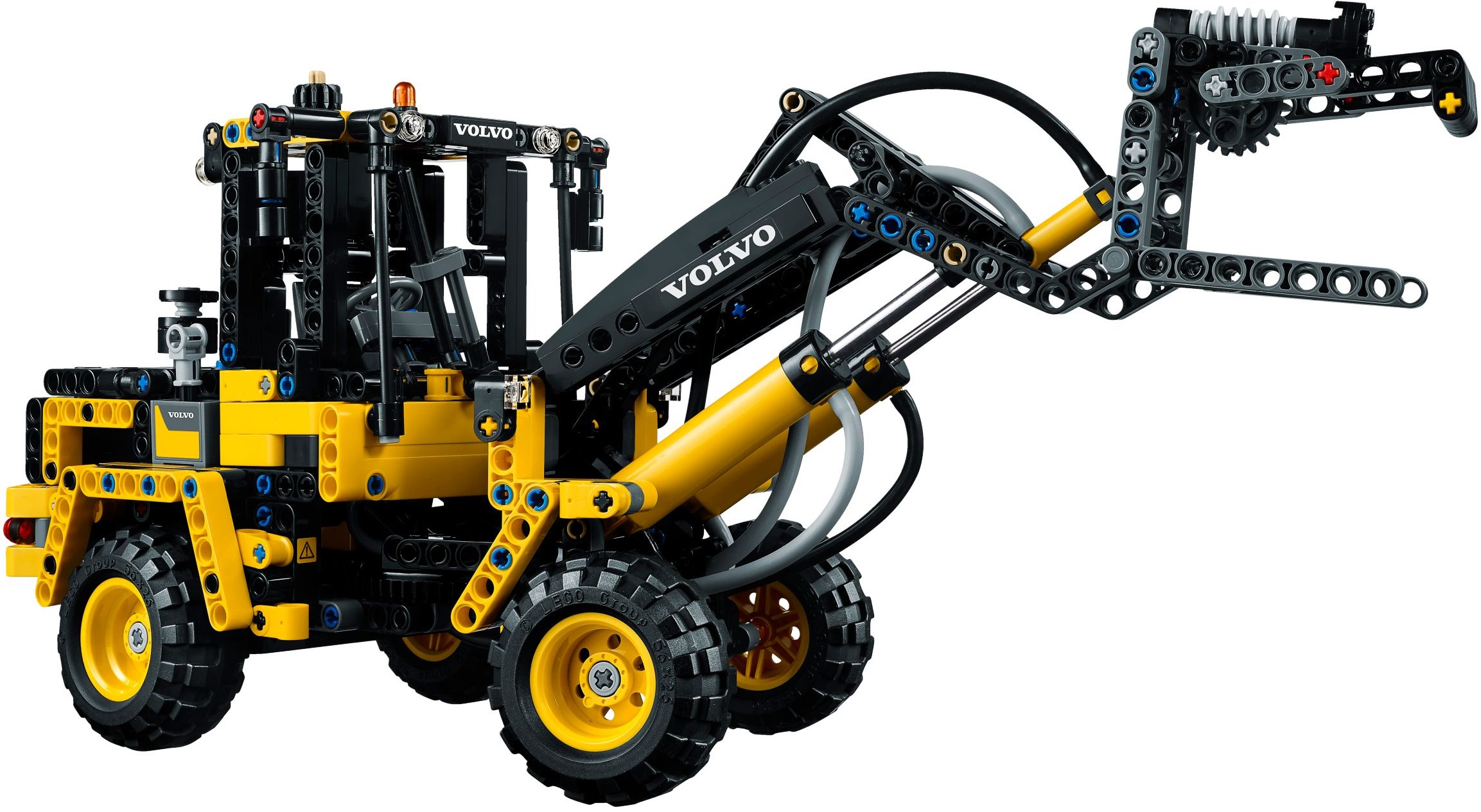 Brickset: Do you ever return to the A-model to swap or add an extra piece so it can be used in the B-model?
Milan: We try not to do that but yes we do, occasionally! Usually we consider that kind of thing while designing the primary model so include a good range of parts. Taking the example of 42069 Extreme Adventure, I could probably have used one type of gear wheel inside the drive train but instead decided to use several different kinds, just to enrich the variety of pieces in the set and offer more choice for the B-model as well as fan creations. Now that I think about it, we actually had to add an extra pneumatic T-bar to the main model in 42053 Volvo EW160E because we needed to be able to connect some hoses in the B-model.
Brickset: Samuel, as a motorcycle specialist you were presumably heavily involved in the design of 42063 BMW R 1200 GS Adventure. How did that design come about, particularly with regard to the B-model?
Samuel: I was very involved in the creation of the B-model and we worked closely with BMW on it. This is not the first time that we have designed a motorcycle in LEGO Technic and in the past we have included another kind of bike as the B-model so we wanted to try something a bit different on this occasion. Of course we are usually basing our models on an existing vehicle or at least an existing concept but in this case we built the LEGO model while I was sketching the concept drawings, as though it was a real flying motorcycle! BMW then did some of their own sketches based on my designs and we worked together to come up with a final model which is intended to resemble a future BMW motorbike if some kind of efficient hovering technology emerged in the next few decades. It was a really fun project!
Milan: That process was something completely new to us as we have never worked with a partner company to create something new. We would definitely be excited to work on more projects like this one.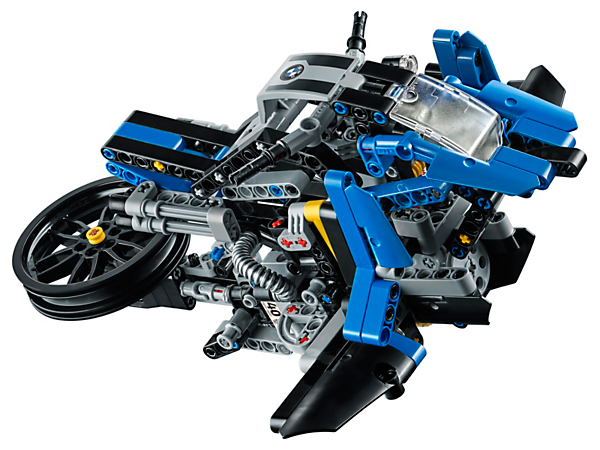 Brickset: Was it a coincidence that you were originally a motorcycle designer and that 42063 BMW R 1200 GS Adventure was created so soon after you began working for LEGO?
Samuel: It was, actually. I had only been in Billund for two days before being sent off to Munich to meet with BMW so there were already plans for the motorcycle before I arrived. It was great though because I got to ride the real bike around BMW's test area and I was also involved in the photo shoot for the press release later on. In fact, it has all been a lot of fun so far!
Brickset: It must be fun given that you mention one member of the design team has been working on Technic for almost forty years! That leaves us to wonder what Technic might look like in another forty years.
Milan: Who knows? We definitely try to adapt to new technologies and there will always be a constant supply of new vehicles to recreate as Technic sets. We will just have to see what the future holds and then adapt from there, although building functional models will always be our primary focus.
Brickset: Are there any long-term plans for integrating Technic and Power Functions with digital technologies such as smart phones?
Milan: I am not aware that anything is being considered at the moment but those decisions would be made by other designers within LEGO. We would certainly be consulted though, particularly if it was likely that Technic would make extensive use of an innovation like that. Nevertheless, it is a cool idea and could allow you to create some really crazy models! Maybe we will see something like that in the future.
Many thanks for speaking with us!
---
We will be publishing reviews of all three new Technic sets, beginning with 42070 6x6 All Terrain Tow Truck, very soon.