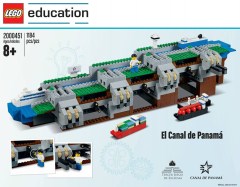 Back in November we wrote about The Panama Canal educational set, 2000451, of which only 40,000 were produced.
It can now be purchased on the Panama STEM website, and shipped anywhere in the world, although it's not cheap by any means.
The 1184-piece set will set you back US$249.95, plus shipping, which to the UK is US$40, although I believe it may be free to the USA.
If you're a collector of the hard-to-find you'll probably want to snap this up, and of course buying it from the official source will be much cheaper than on the secondary market.