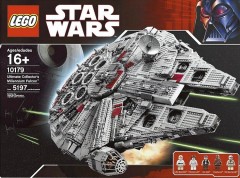 10179 Ultimate Collector's Millennium Falcon represents the core of the enormous LEGO Star Wars range and was released in 2007 to celebrate the thirtieth anniversary of Star Wars. Now, ten years later it seems increasingly likely that an updated version of the famous freighter will soon be announced before becoming available in September.
This news will be well received by many, including myself, as the original UCS Millennium Falcon remains very popular today and accordingly demands an exceptionally high price on the secondary market. However, the standard of updated Ultimate Collector's Series sets has been fairly mixed as while some represent a considerable improvement, others advance very little. Improving upon the tremendous 10179 Ultimate Collector's Millennium Falcon presents a particularly difficult challenge but I think there is the potential for some exciting innovation.
Minifigures:
The minifigure selection seems sure to be updated. 10179 Ultimate Collector's Millennium Falcon included Han Solo, Chewbacca, Luke Skywalker, Leia Organa and Obi-Wan Kenobi, representing most of the occupants of the vessel in Star Wars Episode IV: A New Hope but excluding R2-D2 and C-3PO. It seems certain that all seven of those characters will appear in a new model, perhaps alongside Lando Calrissian and Nien Numb, the latter of whom would be making his minifigure debut! I would also be very pleased to see Lieutenant Blount to accompany General Cracken who first appeared in 75050 B-wing, although this seems unlikely given their relative obscurity.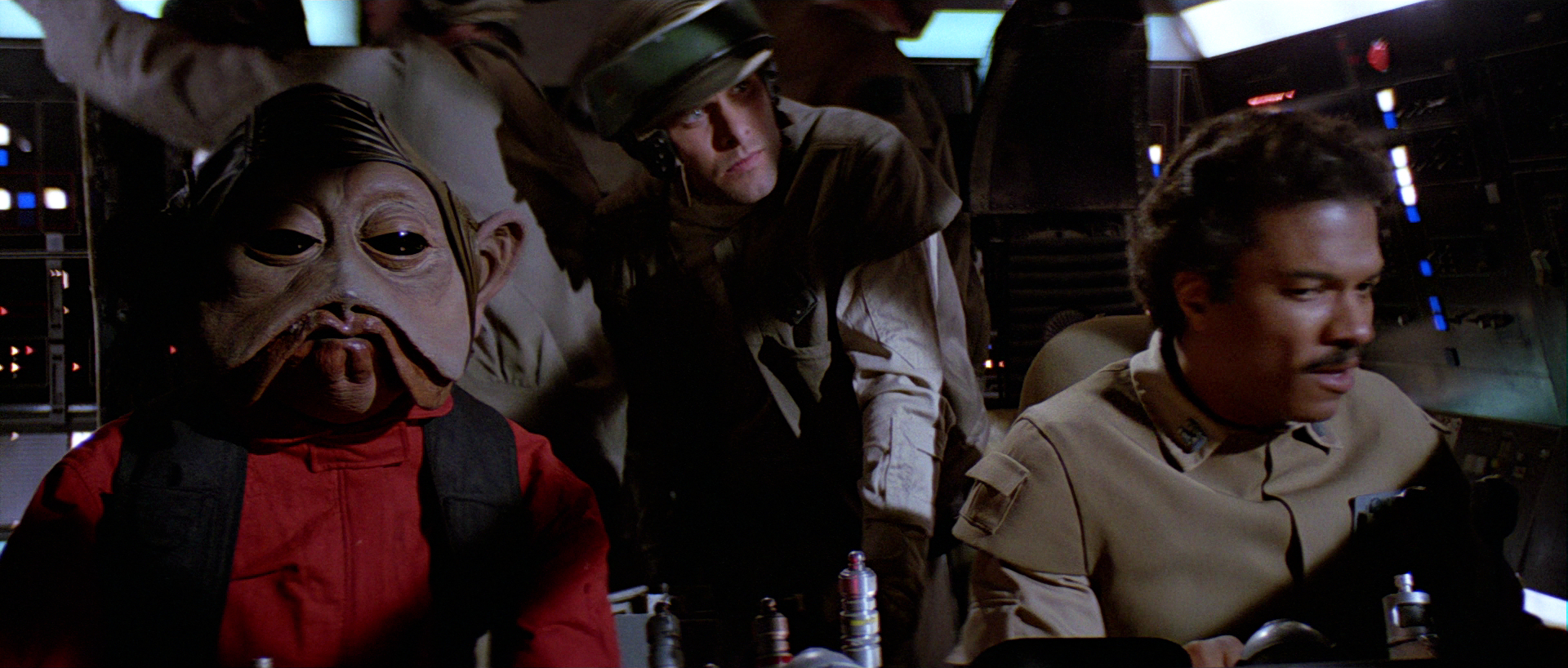 Perhaps versions of Han and Leia wearing their cold weather fatigues from The Empire Strikes Back will be included too. I would be glad of an updated Leia minifigure as six years have passed since the most recent edition was released and there is scope for significant improvement. A few characters from Star Wars: The Force Awakens will presumably appear as well. An older version of Han Solo along with Rey, Finn and BB-8 would be required and might feature a couple of new printed designs to differentiate them from previously released minifigures, much like Boba Fett from 75060 Slave I.
Display:
10179 Ultimate Collector's Millennium Falcon is displayed with its landing gear extended. These structures are quite fragile on the original model so I would expect to see that improved upon, assuming a new Millennium Falcon also included landing pads. It would be wonderful to see them retract into the hull but that seems very unlikely so seven removable legs would be fine in my opinion.
However, it would also be nice to display the Millennium Falcon in flight so a display stand, complete with the standard Ultimate Collector's Series plaque, could make a great addition to the set. The substantial weight of such a large model may make this difficult but I think a sturdy Technic stand could be created for the purpose. The designer might even include multiple stands supporting different areas of the craft, perhaps allowing you to display the model at a dynamic angle like 75144 Snowspeeder!
Exterior:
The Millennium Falcon appears famously scruffy throughout the Star Wars saga, with hastily applied armour plates covering innumerable modifications and additional systems. I think this chaotic exterior was recreated very effectively on the original model but there is still room for improvement, particularly where the joints between plates are concerned. A few unsightly gaps are present in certain areas of 10179, due primarily to the limited selection of angled plates which were in production before 2007.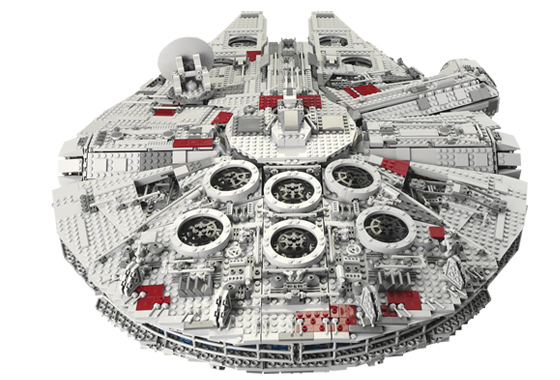 A much wider range of angled plates is available today and I anticipate a more authentic exterior as a result, with fewer gaps between different sections of the hull. It should also have been easier to include many more mechanical details as LEGO's current parts palette includes a vast array of modified tiles and clips ideal for greebling. Hopefully the designer has taken full advantage of the extensive reference material available for the Millennium Falcon so will have focused attention on even the subtlest details.
Rectenna:
A large rectenna is situated on the port side of the Millennium Falcon and this was effectively recreated using a uniquely printed 10x10 dish in 10179 Ultimate Collector's Millennium Falcon. I am sure a similar element will be used on the updated model and hope that a shorter component, perhaps a 2x2 truncated cone, will represent the emitter in the centre as the 2007 version employs a 2x2x2 cone which is considerably too long.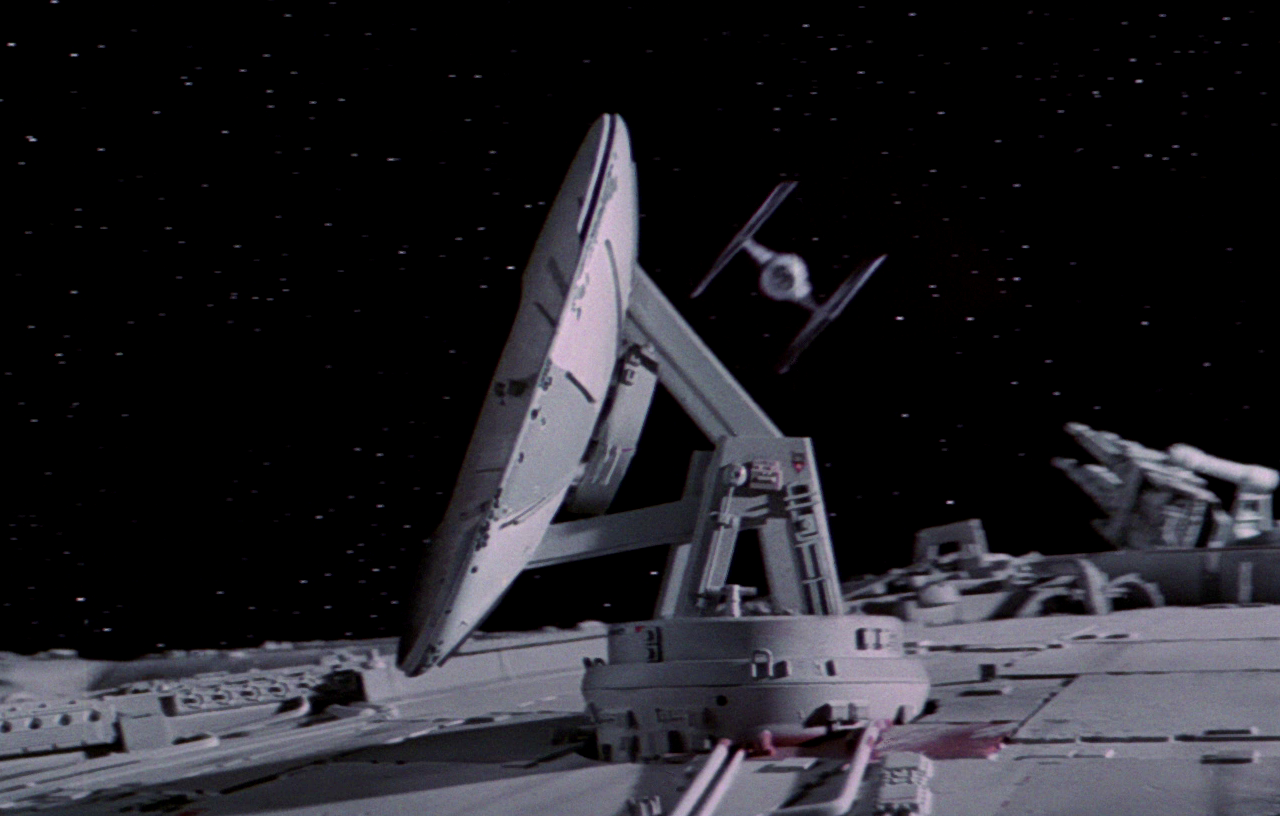 Furthermore, I am confident that a rectangular rectenna will be included to represent the vessel as it appears in The Force Awakens. This might only occupy about 100 pieces and would provide a perfect opportunity to customise the Falcon depending on whether you wish to display the ship as it appears in the Original Trilogy or the Sequel Trilogy. Some further external differences are visible between the two trilogies but it seems unlikely that the subtler changes will be depicted. Personally, I think an alternative rectenna would be sufficient.
Cockpit:
The unusual shape of the Millennium Falcon's cockpit module presents a challenge for the designer of a model at any scale and I think the entirely brick-built version from 10179 is very impressive. However, the absence of glass between the window panes is unfortunate and the accuracy of the forward viewport could certainly be improved upon so I expect to see a newly printed 6x6 dish included at the front.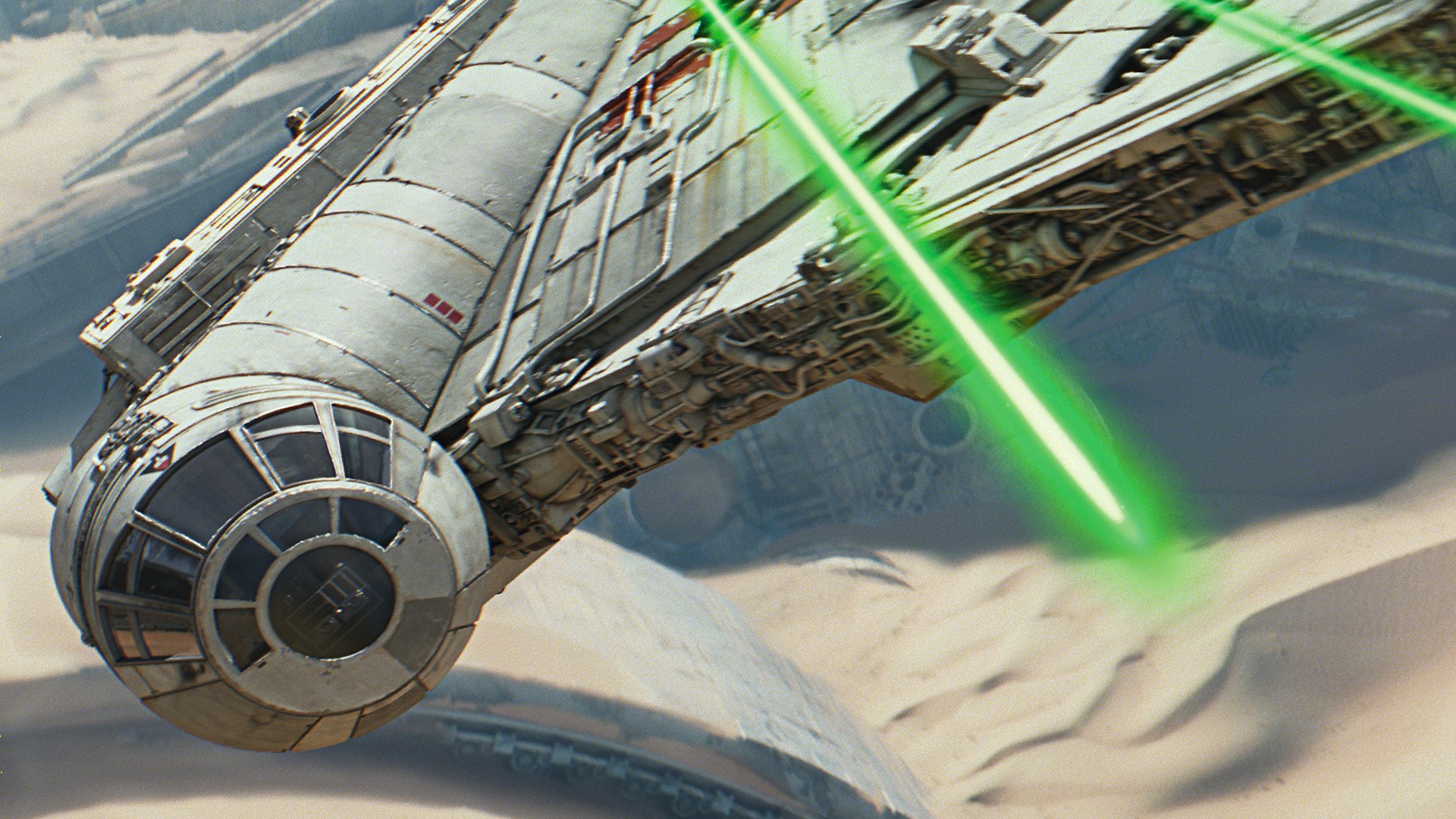 Excellent though the brick-built cockpit is, a couple of large printed elements could represent the shape more accurately. This might disappoint some people but seems quite probable to me, particularly since a seemingly ideal component has just been introduced in 70616 Ice Tank. A pair of 5x10x6 conical panels would be perfect, allowing plenty of room for a detailed interior and ensuring the utmost authenticity when viewed from the exterior.
Interior:
10179 Ultimate Collector's Millennium Falcon includes very little interior detail, with four seats and a few control panels in the cockpit as well as gunner positions for a couple of minifigures in the centre of the model. There is definitely the potential to improve upon this aspect of the Millennium Falcon, most notably in the cockpit where more accurate flight controls and details on the rear walls are vital.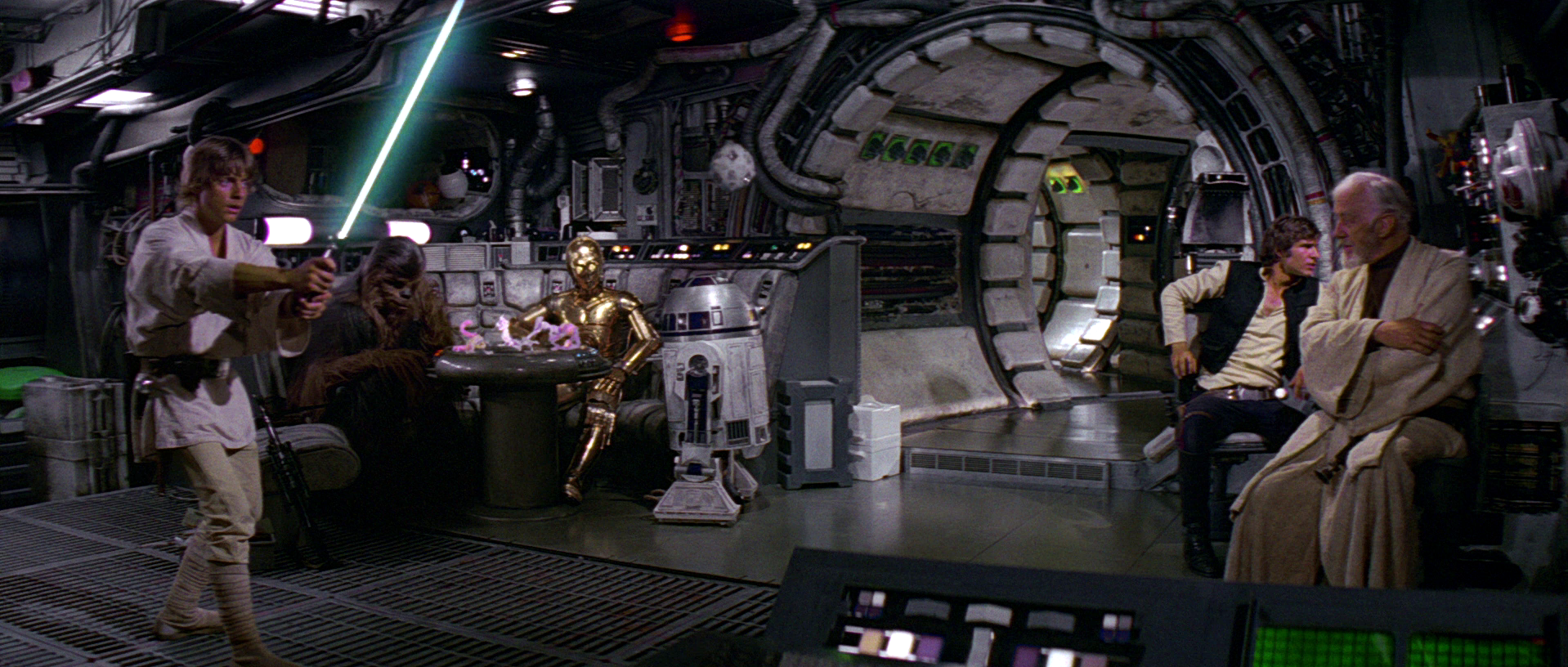 However, much of the interior remains unexplored in a UCS model and I would be very excited to see more detail inside. The lounge area is very well known and has appeared in several smaller versions of the Millennium Falcon so might also be present in a larger scale model. A section of the hull could be removed to reveal the dejarik table, some seats and the maintenance bay briefly occupied by Rey, Finn and BB-8 during The Force Awakens. Any additional interior such as sections of the corridor or the medical bay would be delightful, although including too much internal space might compromise the stability of the model.
Functions:
The Ultimate Collector's Series range should be focused upon accuracy and display value above all else but some play features are welcome, assuming they do not interfere with the appearance of a model. 75144 Snowspeeder struck a perfect balance in my opinion and I hope a new Millennium Falcon will do the same. The original model included a lowering boarding ramp and articulated quad laser cannons which are a necessity for the updated design but a few new features would also be very welcome.
For instance, I would love to see a deployable Ax-108 blaster cannon slung beneath the Millennium Falcon. The model might also take inspiration from 75144 Snowspeeder by including moving seats as the quad laser cannon turrets change direction, much like the control yoke which moves in conjunction with the harpoon launcher on the Snowspeeder.
---
Updating and improving upon a beloved model is very challenging but I think there is room for considerable improvement over certain areas of 10179 Ultimate Collector's Millennium Falcon. I would therefore not be at all surprised to see some of the changes described here appear in an updated UCS Millennium Falcon, particularly if the increased piece count which is rumoured is to be believed. I very much look forward to seeing official images of the model, assuming it does indeed exist, that is!
What are you hoping to see in a new Ultimate Collector's Series Millennium Falcon? Let us know in the comments.
Sponsored content