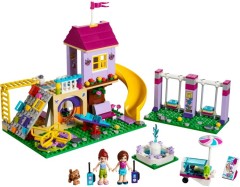 Earlier this year LEGO ran a competition to design a Friends model with the prize being having it turned into a boxed product, complete with a mini-doll representation of the winner. A dream prize for kids, for sure!
The winner was 8-year old Sienna from the UK whose submission was a playground, complete with slide, swings and roundabout, something that was missing from Heartlake City.
I'm not sure when the resultant set, 41325 Heartlake City Playground, is being released but official images have been published and you'll find them over at Heartlake Times, along with an interview with Kristel, an AFOL who was involved with judging the competition.
What luck that the winner has a name not already used in the Friends universe...