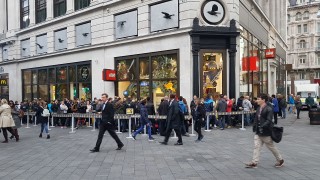 In a matter of hours the largest LEGO set ever, 75192 Millennium Falcon, goes on sale in Leicester Square.
This is the scene outside the store now. Already there's a huge queue building: by the time midnight arrives it could be snaking round whole square!
The current situation is that there are now more than 150 in the queue so if you're thinking of coming later you'll be out of luck as the shop only has that number.
However word is that 600 will be allowed into the shop at midnight and those not able to take one home with them will be able to buy it and have it shipped to them. They can be signed if wanted.
We'll be posting updates throughout the evening from the press event and the store on Twitter (@brickset) and Facebook, and there's a discussion in the forum on the event so stay tuned for all the latest news and goss.
Sponsored content