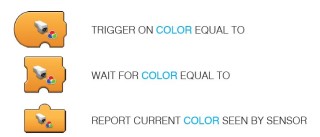 LEGO Boost 17101 Creative Toolbox has been out for a couple of months now and I believe it has been well received, apart from it being a bit picky about what devices the app will run on. It's certainly collected up a number of awards and appears in Amazon's most wanted list of Christmas toys.
Unfortunately, with so much happening in the LEGO world since its release I have not had an opportunity to use and experiment with it since I posted my first impressions. One thing that did frustrate me early on, though, was making sense of the 'hieroglyphics' used on the programming blocks, which in many cases are not intuitive.
I suspect kids are happy to drag and drop and experiment but I like a bit of documentation so I was pleased to find just what I wanted in the LEGO Boost Community group on Facebook today: a crib sheet sent out by LEGO Customer Services to those that ask for it. I have uploaded here for your convenience.
I can't think why, but it's possible that LEGO does not want it widely available, otherwise it would have put it on the Boost site at LEGO.com. If that's the case I'll probably be asked to remove it from here. So, I suggest you download it now if it's of interest.