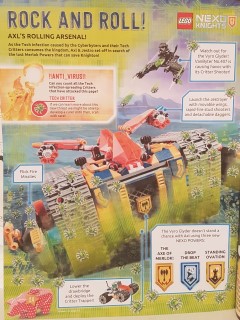 Brickset member Brainslugged has sent us this picture from the latest LEGO Life magazine of 72006 Axl's Rolling Arsenal, one of next year's NEXO Knights sets.
The highlight seems to be the small spiders that are launched using a 1x1 round plate shooter from the antagonist's flying machine.
Rumour has it that, in the UK, these will be available in brand stores and John Lewis only which, if true, probably signals that they are not selling well and those released in 1HY 2018 will be the last.
See a larger image after the break.