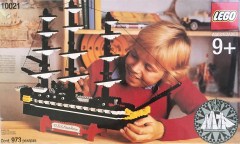 The Return of the re-releases article that we published last week, following news that the Taj Mahal is making a comeback, generated a lot of interest and comments. Among them was one by Dude45 who suggested that we should take a look at sets that have been re-released in the past.
Identifying such sets is fairly easy because we have a table in the database that is used to record relationships between sets, so it was possible to create a query that shows 46 of them.
This article, then, examines a dozen or so of the more interesting ones and explains, or speculates, why they were re-released.
In the Return of the re-releases CapnRex101 defined three types of re-release. This article will be considering just direct re-releases and revised re-releases.
---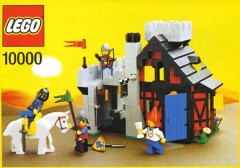 Guarded Inn
10000
The first significant re-release was in 2001 when 1986's 6067 Guarded Inn returned as 10000 Guarded Inn.
LEGO started to engage with online communities in the early 2000s and sensed that many Castle fans were frustrated that the current sets were all based around conflict and none of them provided any civilians or peaceful pursuits.
The company had also recently launched its online shop at home service so had an opportunity to produce more sets that could be sold directly to consumers. As 6067 Guarded Inn was one of the most highly regarded classic castle sets it made an ideal candidate for the first in a new line of direct-to-consumer sets, numbered in the 10000 series.
10000 is a direct copy of the original set, although the BrickLink inventory suggests it has one more part than 6067.
The following year 6074 Black Falcon's Fortress reappeared as 10039 so presumably 10000's rerelease was deemed a success.
---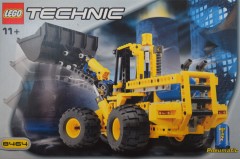 Pneumatic Front-End Loader
8464
2001 was the first year in a period of decline for the Technic theme. The range of sets released that year are perhaps the worse ever, surpassed only by 2002 when no new sets at all were produced.
8464 Pneumatic Front-End Loader was a re-release of 8459 from 1997 and presumably made a reappearance in order to fill a gap in the product range which contained no new construction vehicles that year.
It was joined in the line-up by 8463 Forklift, which was a re-release of 1998's 8248.
8459 is one of just a few sets that have been re-released twice. It made a third appearance in 2004 as 8439.
---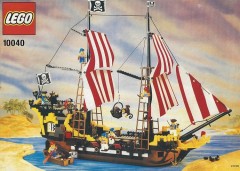 Black Seas Barracuda
10040
The Pirates theme died a death in 1997 but such was the demand for the sets in the early 2000s that three sets were re-released in 2001, including 6291 Armada Flagship, and the best one of them all, the Black Seas Barracuda from the theme's original 1989 lineup, as 10040 Black Seas Barracuda in 2002.
---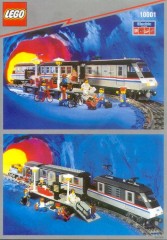 Metroliner
10001
It was in the early 2000's that many AFOLs started to organise themselves into LUGs and in particular train clubs. There was thus a large demand for train sets but very few decent ones in LEGO's product lineup. This led to the appearance of 10020 Santa Fe Super Chief and 10133 Burlington Northern Santa Fe (BNSF) Locomotive later in the decade and before that the re-release of two of the most sought-after 9v train sets.
In 2001 4558 Metroliner and 4547 Club Car returned as 10001 and 10002 respectively and so filled a gap in the market. Even today 4558 in particular ranks as one of the most attractive, realistic and coveted train sets of all time.
---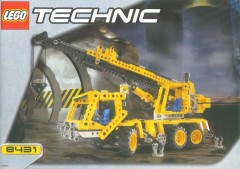 Pneumatic Crane Truck
8431
2002 marked the low point in Technic's history. No new sets were released at all; instead efforts were transferred to the new Racers theme that comprised both sets built with System parts and with Technic elements.
The year's entire line-up consisted of three old sets from the 1990s, but they did include 8431 Pneumatic Crane Truck which was originally 8460 released in 1995 and one of the finest Technic sets released in the 1990s.
Like 8459 discussed above, 8460 was also re-released twice, the second time as 8438 in 2003. The piece counts recorded at BrickLink and here are slightly different so there are presumably some minor differences between them.
---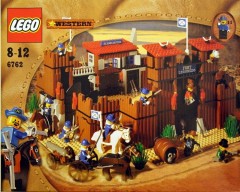 Fort Legoredo
6762
1996's Western sets were hugely successful but the theme was very short lived with just 17 sets released over two years.
Demand was presumably perceived to endure in the early 2000s because three sets were re-released during that period, including the largest, 6769 Fort Legoredo, as 6762.
---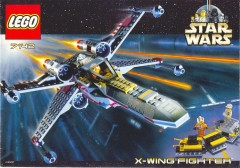 X-wing Fighter
7142
The X-wing is perhaps the most popular of all Star Wars vehicles so it came as no surprise when 7140 X-wing Fighter was released in the very first year of the theme.
This was soon retired only for 7142 X-wing Fighter to arrive in 2002. The two sets are completely identical, perhaps suggesting that the designers felt the original model could not be improved upon using contemporary parts. 4502 X-wing Fighter was then released in 2004 and took advantage of several new curved slopes which had come into use a couple of years earlier, but after the release of 7142.
Black Falcon's Fortress
10039
---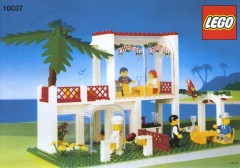 Breezeway Café
10037
Like Technic, the Town (later World City) theme was in a very bad place in the early 2000s, with dumbed-down sets and not many of them.
There were certainly no new civilian sets in the range so some of the best from the 1990s were re-released in 2002: 6376 Breezeway Café from 1990 as 10037 and 1994's 6350 Pizza To Go as 10036.
As far as I can tell from the BrickLink inventories they were both exact copies.
---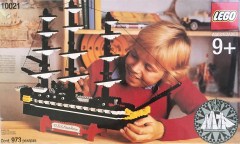 USS Constellation
10021
2003's 10021 USS Constellation takes the prize for being the set re-released the longest time after the original was produced. 25 years separate its release with the original from 1978, 398.
Unfortunately it was not a piece-for-piece reproduction, most notably the long-out-of-production yellow 1x1 windows were replaced by 1x1 headlight bricks, a substitution that many were unhappy with.
---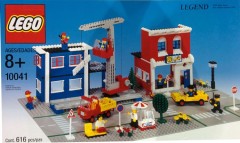 Main Street
10041
Personally I've never seen the attraction of 1980's 6390 Main Street but it seemed to have some sort of cult following, particularly in the USA, which presumably was the reason for its re-release in 2003 as 10041 during the Town theme's doldrums.
The new set has around 40 more parts than the original although it's not immediately clear why as, superficially, they look identical.
One element that's missing from the re-release is the cypress tree which went out of production in 2001 and last appeared in 10113 Cypress Tree before the worn-out mould was destroyed.
---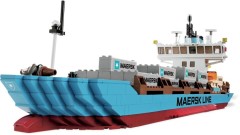 Maersk Line Container Ship
10155
I remember when pictures of 10152 Maersk Sealand Container Ship first surfaced in 2004 and the subsequent disappointment when it was found out that it was produced as a promotional item for Maersk and wouldn't be sold to the public.
Thankfully, a few months later, LEGO announced on Lugnet that it would be sold at Shop at Home after all but that only 14,000 would be made because "this new set uses all the Maersk blue ABS pellets we have left". Clearly the company went out and purchased more because new versions of the set (with the same number) were produced in 2005 and 2006, the latter with new stickers reflecting the new name of the shipping line.
In 2010 another new version was produced with a different set number, 10155 Maersk Line Container Ship which, according to the inventory at BrickLink, has 2 more pieces than its predecessors.
---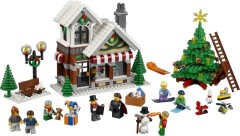 Winter Toy Shop
10249
The re-release of the first Winter Village set, 2009's 10199 Winter Village Toy Shop, as 10249 in 2015 was met with almost universal disappointment. Not because it's a bad set -- it isn't -- but because it meant that a new one would not be produced that year.
Jamie Berard has since stated that this was simply because the designers were very busy and that there was not time to create an entirely new model. Morten Rauff therefore took the opportunity to make a number of improvements to the set, as explained in the designer video at the end of the press release news article.
---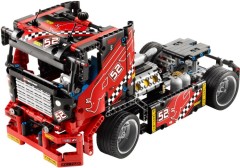 Race Truck
42041
The appearance of 42041 Race Truck in the Technic assortment for 2015 remains a bit of mystery. The original model, 8041 from 2010, was not exactly a stand-out set and probably not a best-seller either, so is a strange choice to reproduce.
Presumably it was needed to fill a particular price point in the product line-up that year.
---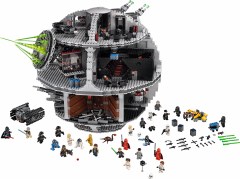 Death Star
75159
10188 Death Star was released in 2008 and subsequently proved to be one of the most popular Star Wars sets ever, remaining on shelves for almost eight years before finally being retired in the spring of 2016.
Rumours quickly began to circulate that a new Death Star would be released later in the year but the announcement of 75159 disappointed many fans as the set offered little innovation in relation to its predecessor. However, of all the re-released sets on this list it is perhaps the easiest to justify as 10188 Death Star continued to attract new buyers but was also looking rather dated by 2016 so an updated minifigure selection was a necessity.
---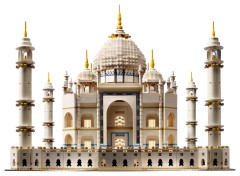 Taj Mahal
10256
We end with 10256 Taj Mahal, a re-release of 10189 from 2008, which, until this year's 75192 Millennium Falcon, was the largest set ever made.
After-market prices of the original have remained high which suggests there's still demand for it. I guess we'll have an indication of just how much from the time it takes to sell out at shop.LEGO.com...
---
So, what conclusions, if any, can we draw about why LEGO re-releases sets?
One thing that is interesting is that the highest concentration of re-releases coincided with the time when the company was in dire straits in the early 2000s.
Although Star Wars, Harry Potter and Bionicle were performing well for the company at the time many other themes were being neglected or simplified which left gaps in the product lineup that could be most easily and cheaply filled by re-releasing old sets. Perhaps, then, they are a sign that all is not well within the company.
Alternatively, the latest crop of re-releases might signal LEGO's current confidence. The toy has many more fans today than at any point in the past and the growth of the adult market following The LEGO Movie has fostered a busy secondary market for the most popular past sets. Bringing some of those back in an official capacity therefore makes perfect sense and the fact that LEGO is willing to expend resources on such products is testament to their confidence that the market for past sets remains strong.