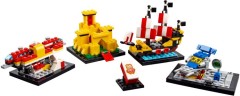 LEGO has just published images of 40290 60 Years of the LEGO Brick that's a gift with purchase in January, released to commemorate the 60th anniversary of the filing of the LEGO brick patent in 1958.
View pictures of the four mini versions of classic sets 6399 Airport Shuttle, 375 Castle, 6285 Black Seas Barracuda and 928 Space Cruiser And Moonbase after the break.
In the USA it'll be available with purchases over $125 from 28 January. There's no word on availability in Europe yet but we'll keep you informed.