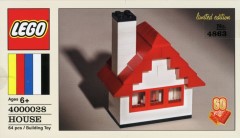 An article about the 60th anniversary of the filing of the LEGO Brick patent at Forbes has revealed two new sets that, in the USA, will be exclusive to Walmart and priced at $19.99.
It's likely that they'll be available elsewhere in the world so we'll let you know when we hear.
4000028 House and 4000029 Windmill are certainly 'old school' with design and packaging that would not look out of place in the 1950s or 1960s.
In addition, 10715 Bricks on a Roll will be sold in limited edition retro packaging in Walmart, too. You can view pictures after the break.
Thanks to shima55 for the news.