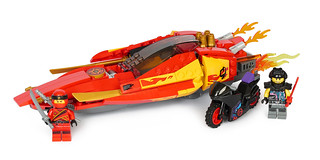 It seems a long time ago that I was buying the first Ninjago sets ever for my youngest lad, and a lot of fun we had with them too. Fast forward 7 years and we find the theme is getting better and better all the time with constant reinvention, helped of course by the fact it has it's own TV series.
The first wave of 2018 sets are all about the "Sons of Garmadon" – a biker gang with a mission to resurrect Lord Garmadon while our Ninjago heroes attempt to stop them. So what better way to kick off these biker themed reviews than with a boat!
At £14.99 / €19.99 / $19.99 70638 Katana V11 is the smallest Sons of Garmadon set and it offers up 257 pieces. It's not going to break the bank, but is it any good? Let's find out...
The box is 260 x 190 x 60mm and if you're the sort of person who wonders how that looks when pressed against the chest of a 17 year old skinny lad, then you're in luck. Here's the front and back showing the play features and a skinny lad included for scale.
View image at flickr
View image at flickr
Opening it up we've got two bags, a small sheet with 10 stickers for application and an 84 page instruction booklet. There are 84 steps for the main build and a couple of pages devoted to the minifigures. There's nothing new or rare worthy of its own picture this time around, so I'll point out interesting parts as we progress through.
View image at flickr
---
The Minifigures
Let's have a look at the minifigures. There's another version of Kai, this time with a detailed patterned robe print. The patterning continues onto the legs and is broken by a black belt around the waist. The bow on it looks a little odd being split the way it is across the torso and legs - the printing tolerances just aren't there to make it tighter I guess. It's a shame but a minor gripe.
View image at flickr
The gold effect and wrap around top look superb and the back is printed as well, even though this gets mostly hidden by the scabbard accessory.
View image at flickr
Kai features a dual sided head, and when we add in his accessories he looks like this.
View image at flickr
His opponent here is Luke Cunningham which sounds like a proper posh boy's name for a biker to me. He has a printed waistcoat front and rear with silver highlights, and the silver continues onto his leg piece showing a chain print, finished off with black knee prints on his leathers.
View image at flickr
The rear torso print is particularly successful, with the Sons Of Garmadon emblem giving a real "Hells Angel" vibe.
View image at flickr
The shoulder armour is a new piece that is used in 4 of the S.O.G. sets and I'm sure will find it's way into many others in time. Luke is finished with a black helmet and goggles which look a little cyberpunk in this context. Lastly he is equipped with a sword in red, which is a recolour for this range.
View image at flickr
Of course, no biker is complete without a bike, and he gets a fairly basic sports fairing here. I was surprised to see while researching that this style of bike has only appeared in 4 sets before, and only 2 of those in black – I didn't expect that. A couple of stickers finish it off. It's not spectacular but perfectly decent and playable.
View image at flickr
---
The Build
Working through bag 1, there's not much indication that this will be anything other than a normal boat with the exception of the flames at the rear. When I fitted those it reminded me very much of the classic batmobile exhaust. I did wonder why I had to fit the yellow cheeses on the nose part, but that becomes apparent later.
View image at flickr
Bag 2 changes everything. We end up with a very sleek and sporty speedboat – almost spaceship in design. There's a huge cockpit hood, unusually and effectively fitted in reverse with 4 gold air airtakes immediately behind. These are attached to 1x2 hinges and can be angled over to about 30 degrees if desired. Behind these are more jets and a few parts for detailing.
View image at flickr
In front of the cockpit is a 2x2 round printed tile – the only new print I could identify in the set, and the nose sweeps long and low. Around the sides there's a nice mixture of red and yellow wings and slopes. There's not a square side on the whole thing. The livery instantly tells that this is Kai's toy and nobody else's and the huge gold blades either side shout Ninjago all the way.
It's a boat so I expected it to have boat studs underneath – and it does – but I did not expect them to have 2x2 round plates on them as well. I felt it made it sit a little high and I didn't know why. This will become apparent when we look at the features.
View image at flickr
I got around 40 minutes build here. The stickers are necessary in my opinion and as there's only 10 it wasn't to much of a chore to place them. It looks great when finished. I'd happily display this one.
So this is what you get for your £14.99 or equivalent – a futuristic looking boat, 2 minifigures and a motorbike. It has all the makings and style of a good playset so let's see what features it has.
View image at flickr
We'll start by popping Kai in the cockpit. He fits and leans back just fine with the scabbard still on his back – but only if you remove the two swords.
View image at flickr
The first feature is the sides drop down to make the boat even wider. This is why the boat studs need the extra plates for more height – it's purely to make it work when the sides drop. When dropped the boat adopts a meaner stance and readies it for the next feature.
View image at flickr
The engine covers swing out and there is easy access to spring shooters loaded on each side – fantastic.
View image at flickr
Here's a different angle showing them a bit better and also demonstrates how the cockpit flips open. Now what about those pesky swords...
View image at flickr
Ingenious – it's all come together now. The entire nose flips up and yields a handy storage place for Kai's swords. It's also the reason that I had to fit those cheeses back in bag 1. They've thought of everything on this one it would seem.
View image at flickr
Oh, and if you'd like to put the sides back up but have the engine covers extended and shooters in attack mode, well they have enough travel on them to do that too.
View image at flickr
When viewed from the front, with the sides dropped and guns ready, it looks totally bad-ass. If you were out on a pleasure cruise you would not want one of these coming up behind you in a hurry. I think it's a fantastic looking beast.
View image at flickr
Of course a bike and a boat might not make the greatest of sense to pair, and if it doesn't to you, it's well worth a look at the stop motion video that was produced to promote the new range. If you missed my previous ramblings, there's also two articles here and here on the making of that film. This set encourages you to participate in your own sequences.
View image at flickr
---
Overall
This set has a lot things going for it. The design is superb, the functions are great and it has a lot of playability. Even at £14.99 RRP it's well worth picking up. I've been out of the Ninjago loop for a while, cherry picking the interesting builds now and then and not getting involved much with the back story or TV series, but I don't need any of that background to enjoy this set and that speaks volumes.
The Ninjago design team are aware that there'll be new fans of "classic" Ninjago coming into this range off the back of the movie and this is a super hook to kick off with.
If you're a Ninjago fan then you need this in your life. If you're not, it's still worth a look as it just has a coolness about it and is a fun little build.
---
Many thanks to the LEGO Group for providing Brickset with a review copy of the set. All opinions expressed in this review are my own.