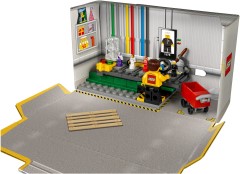 Images of the next gift-with-purchase at shop.LEGO.com, 5005358 Minifigure Factory, have been uploaded to LEGO's server in preparation for the start of the offer on Sunday.
The 86-piece set, released as part of the minifigure's 40th anniversary celebrations, will be free with purchases over $75 from 1st April until the 15th in the USA and Canada, and in Europe it's available a day later, from the 2nd April to the 22nd, with purchases over £55/€60.
It features a model of a minifigure production line, complete with five micro figures decorated to represent classic minifigs released over the last 40 years. The box folds out to form a backdrop which makes it look more substantial than it actually is.
View pictures after the break.