21314 TRON: Legacy was released a few days ago and has proven very popular thus far, so much so in fact that it has already sold out at shop.LEGO.com in a number of countries! We are always interested to speak with the creators of successful LEGO Ideas projects so approached the fan designers of 21314 TRON: Legacy, Drew and Tom from BrickBros UK, for an interview.
The brothers kindly agreed to answer some questions about their background with LEGO, their popular YouTube channel and the creation of 21314 TRON: Legacy. You can read about this and get some tips for your own LEGO Ideas projects after the break...
Brickset: How did you each become interested in LEGO?
Drew and Tom: We both grew up playing LEGO together, generally with a big mixed tub full of random sets and parts which we would tip out and just start building from to create our own worlds. That is what we believe LEGO is all about.
Which current LEGO themes are your favourites and do you each have a favourite set?
We're both big Star Wars fans, of course, but as we create new models we find a great deal to enjoy in most other themes as they all have their own unique qualities and strengths. Tom's favourite set would be 75005 Rancor Pit and mine is the original cantina set, 4501 Mos Eisley Cantina.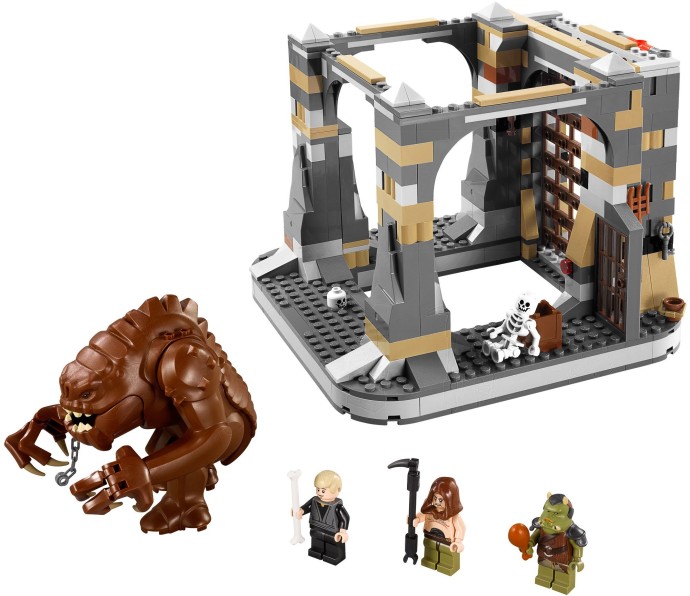 You now run the highly successful BrickBros UK YouTube channel. What inspired you to start making videos about LEGO?
We've always enjoyed building with LEGO and thought people might be interested to see what alternative builds they could build from their own sets on our channel. It all spiraled from there and over the last few years we've created lots of cool builds and creative videos, building up a friendly community of people from around the world which we love.
You frequently publish videos of alternative models for official sets. What challenges does this present and where do you start when building your own alternative models?
Creating our alternative builds is always fun. We tend to start by deconstructing the original set and laying out the parts to see what could be built but we sometimes do little sketches of spaceships and bases to help in designing a different model. We often have to think outside the box when trying to add moving parts to our creations and it can be difficult to come up with effective construction methods as using the parts from a single set is quite restrictive.

What inspired you to create the "TRON Legacy Light Cycle" LEGO ideas project?
We both are huge fans of the TRON: Legacy film and were surprised the idea hadn't been submitted before. We thought a Light Cycle would be perfect to make as it's an iconic aspect of TRON: Legacy and harkens back to the original TRON as well. Also, we are fans of Daniel Simon's and Syd Mead's futuristic vehicle designs which were used in the movie and are very cool.
How did you react upon discovering that your project had successfully passed review?
We received a phone call from LEGO to let us know our project had made it. It was an odd phone call as we really couldn't believe that our project had been successful! We were both overjoyed as it was submitted for the fans to provide them all with an official TRON set, so it felt like a dream come true.
What interaction did you have with set designers Junya Suzuki and Samuel Johnson during development of the final product?
We did have an initial phone call but found that LEGO had already taken on a lot of the ideas we were going to suggest. They also read a lot of the fan comments posted on the project and took those into consideration in order to tailor the final set to the fans.

Are you satisfied with all the changes made to your original project and is there anything that you would like to alter?
We are both very satisfied with the resultant product and we're pleased that LEGO included our second Ideas project, Rinzler's Light Cycle, as the two bikes are excellent for play and display with the different colours side by side. The three unique minifigures are also an excellent touch, providing fans with key characters from the movie. A Clu figure would have been nice to see and we agree with feedback that a light-brick in the grid base or bikes would have been a cool feature for the set. However, the set as a whole is perfect for TRON fans in our opinion.
What advice do you have for those planning to submit their own LEGO ideas project?
As we said to some fans at the signing event, LEGO Ideas projects do not need to be the biggest or most epic build ever created, with everything finished perfectly, because LEGO Ideas is more about a good idea and concept. Never doubt any idea as it really could take off, just like our project which was simply a small model put together in a bedroom! Also, as a final note, don't rush your build. Just take your time and come back to it days or even weeks later if you get stuck because a fresh mind can sometimes create new ideas and solve problems.
Do you have any plans to submit additional projects in the near future?
We do indeed have a few ideas in the pipeline (no spoilers) so hopefully will find time to create them and then submit them in the near future. But, of course, we are always busy building all the time on our YouTube channel and we hope you will come and see what we're up to!
Many thanks for taking the time to talk to us!
Sponsored content