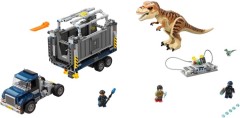 Walmart has just published an image of the one Jurassic World set that we didn't already have an image for: 75933 T. Rex Transport.
It contains three minifigs: Zia and two guards, plus two dinosaurs. I could only see one until I looked closely and noticed the cute baby T-Rex over on the right. You'll find a larger image of it after the break.
Thanks to Mjmannella and shima55 for the news.