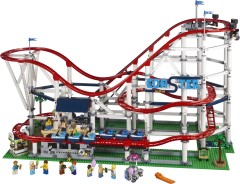 Fans of the Creator Expert Fairground subtheme have long been asking for a LEGO roller coaster and at last those wishes have been fulfilled:
10261 LEGO Creator Expert: Roller Coaster
Ages 16+. 4,124 pieces.
$379.99 US - $479.99 CN - DE 329.99€ - FR 349.99€ - UK £299.99 - DK 2699DKK
Available on the 1st of June, with VIP early access from the 16th of May.
Take a ride with the ultimate Roller Coaster!
Enjoy the thrills and excitement of the fairground with this chain-lift Roller Coaster featuring a wealth of brick-built details and 11 minifigures. Upgradable with LEGO Power Functions and LEGO BOOST for an added movement sensor and realistic sound effects!
Capture the speed, thrills and excitement of the ultimate fairground attraction with this incredible LEGO Creator Expert 10261 Roller Coaster. This fully functional chain-lift model comes with 2 trains and an array of authentic features and functions, including a ticket booth, cotton candy cart, concession stand, height marker and a covered boarding station complete with opening barriers and a control panel. Lower the lap bars to secure the riders into the cars and release the brake to send the train to the foot of the first climb. Then activate the chain lift and enjoy the ride as the gravity-driven cars hurtle through the Roller Coaster's twists and turns.
Upgrade the Roller Coaster with LEGO Power functions for a motorized chain lift or LEGO BOOST for an added movement sensor and realistic sound effects! This incredible collectible toy has been designed to provide a challenging and rewarding building experience with a touch of nostalgia and charm. Includes 11 minifigures.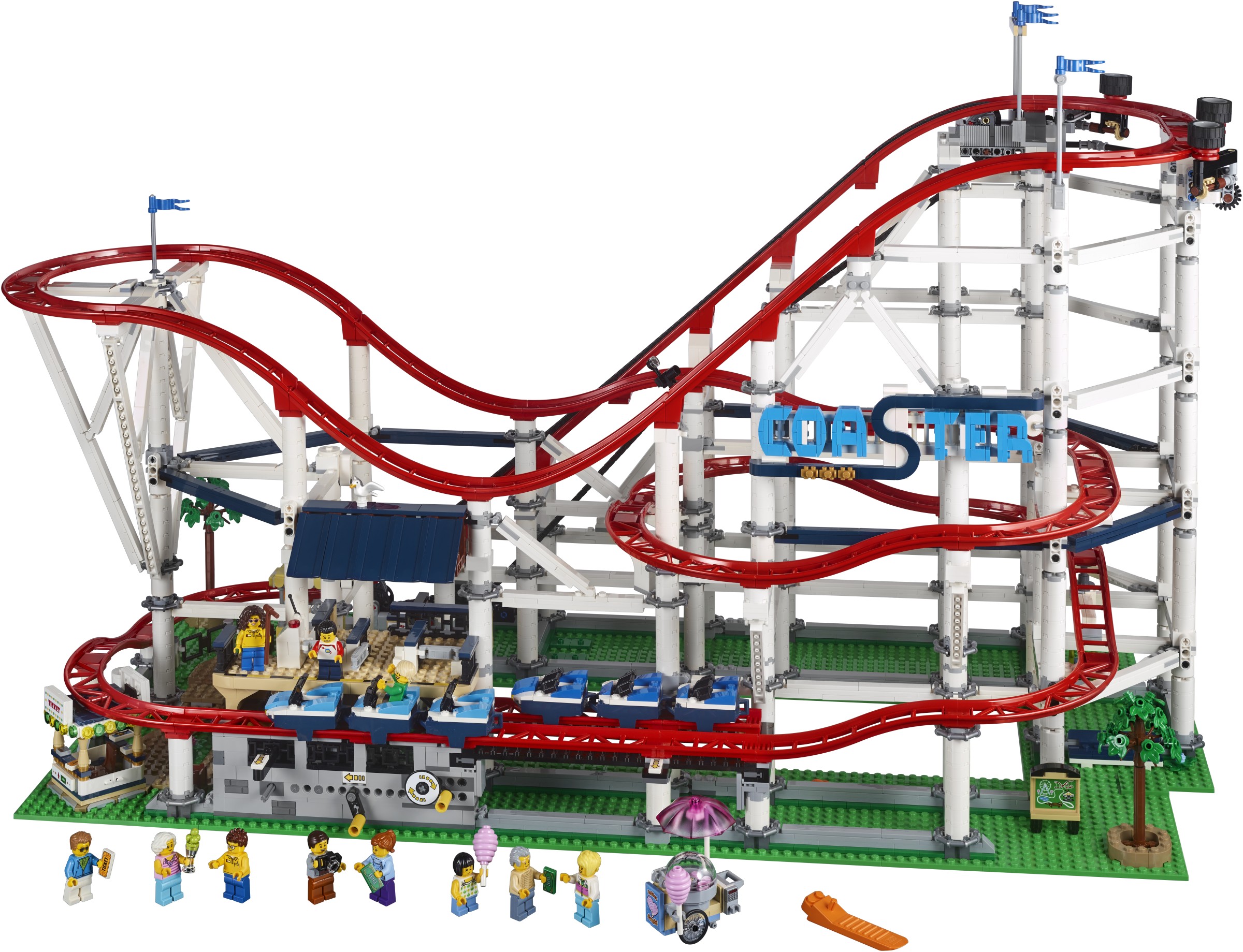 Build a fully functioning Roller Coaster with 2 trains, lots of big dips and upgrade options.
Upgrade with LEGO BOOST and LEGO Power Functions for an even more immersive experience.
Roller Coaster model measures over 20" (53cm) high, 34" (88cm) wide and 16" (41cm) deep.
LEGO Creator Expert building toys are compatible with all LEGO construction sets for creative building.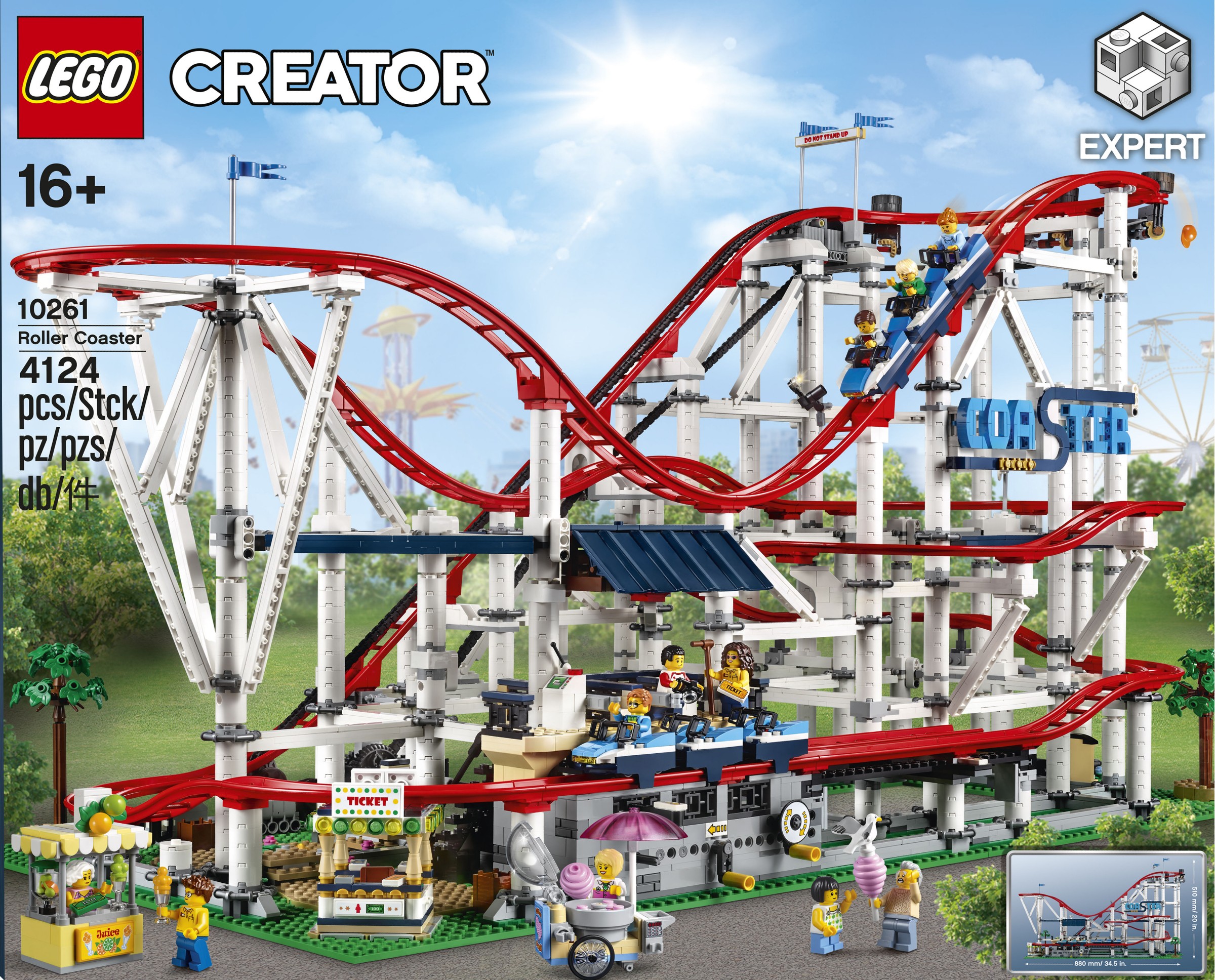 Includes 11 minifigures: a cotton candy vendor, 2 ride attendants, 2 grandparents with their granddaughter and 5 riders. 8 of these minifigures feature reversible heads to display different emotions.
Fully functional chain-lift Roller Coaster model features a classic brick-built sign, control panel, 2 trains—each consisting of 3 train cars with low-friction wheels, and a 44-piece track consisting of 7 different rail elements.
Also features a ticket booth, fountain, cotton candy cart, concession stand, waiting area with bench, camera element and a pond with a frog figure.
---
You can view a selection of other images on the set details page.
Let us know what you think of this enormous set in the comments!