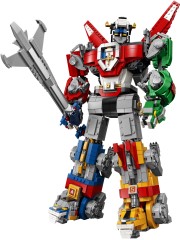 It seems like ages ago that it was announced that len_d69's Voltron - Defender of the Universe project would become an Ideas set, and that's because it was!
In February last year, it was stated that the project was still being considered when the second 2016 review results were announced, then in August, when the 3rd 2016 results were presented, LEGO confined that it has passed.
Now, nearly a year later, we finally get to see what the finished set looks like, and in a few weeks we'll be able to buy it.
21311 Voltron will contain 2321 pieces and retail for US$179.99 / £159,99 / 179,99€ / 1499DKK / AU$ 289,99 and CA$ 229.99 when released to VIPs on 23rd July and everyone else on 1st August.
What do you think? Worth the wait? I know nothing about Voltron but I think it looks awesome. I've no idea why the limbs detach to become cats -- no doubt someone will enlighten me -- but it's a pretty cool idea!
More images after the break and on the set details page.