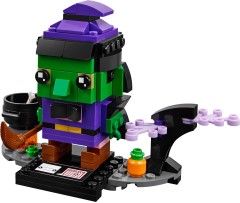 This year's Halloween seasonal set, 40272 Witch, has been found in the LEGO store in Copenhagen by Frantisek S.
Like the Easter and Valentine's ones, it comes with a couple of attachments for the base on 4x4 quarter-circle plates which in this case are a cauldron and a 'spooky tree' and pumpkin.
The Thanksgiving set, 40273 Turkey, is revealed in more detail in the instruction manual. You'll find a picture after the break.
---
It comes with couple of bits of 'garden' -- complete with picket fences, carrots and pumpkin -- to attach to the base.